MALAYSIA HYBRID ZOOM LINK (TUES, WED)
https://zoom.us/j/91774573678?pwd=cTBkNVJUbDE3eFlneDhrOTBxUjAzUT09
HONG KONG CANTONESE ZOOM LINK (MON)
https://zoom.us/j/93913634592?pwd=U2NoTG1mOC9EU01tMllxVU9UVjlUdz09
INDONESIA ZOOM LINK (MON)
https://zoom.us/j/92180623010?pwd=Zm14V29oSzFBUWg4WllJR0xWSllLZz09
---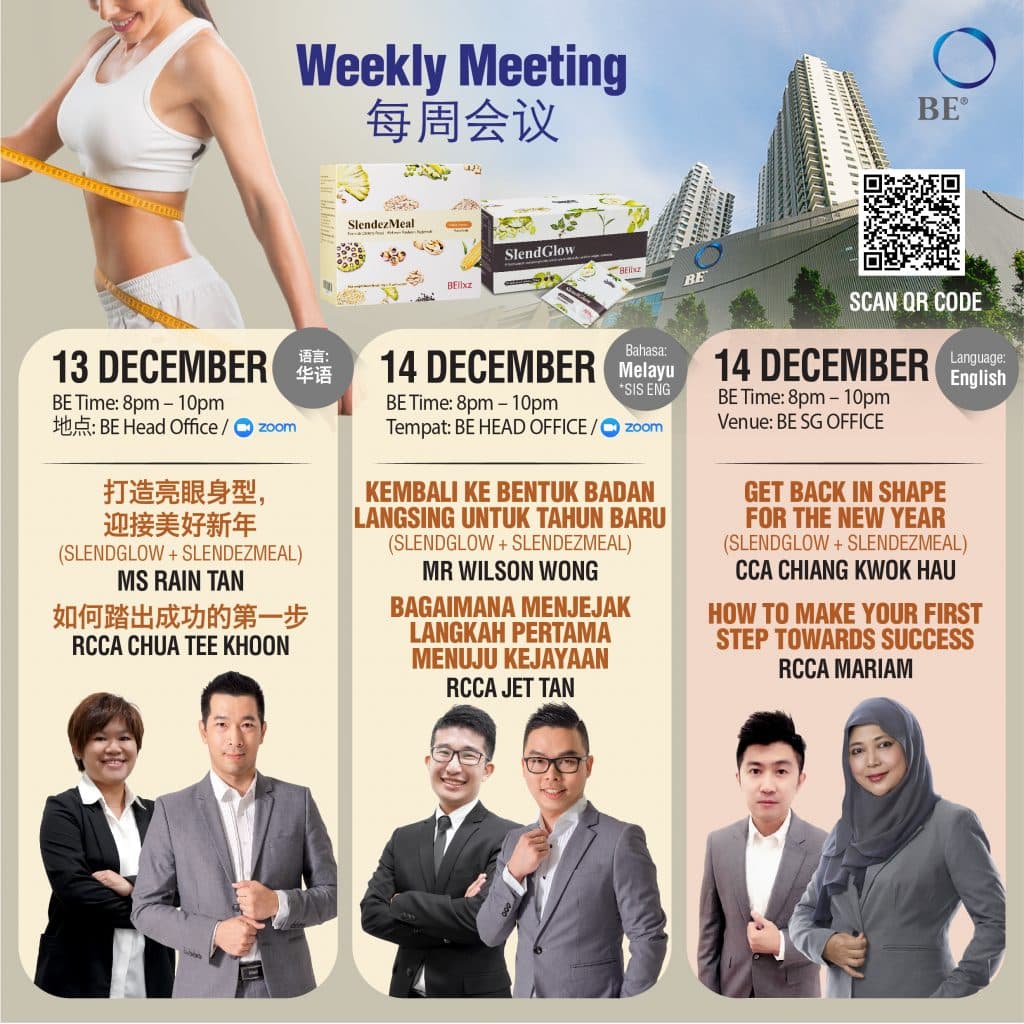 MS. RAIN TAN (13 DECEMBER)
Assistant Marketing Manager of BE International. 10 years of experience in marketing Health Supplement & Health Food products. 5 years of experience in MLM industry Specialize in marketing strategy planning, trade marketing, product positioning and branding.
---
RCCA CHUA TEE KHOON (13 DECEMBER)
Chua Tee Khoon is a respected figure with a Master's degree, a Navy rank and a black belt in Taekwondo. He has never worked, had no connections, had no capital, and had no eloquence. Later, he mastered the rules of direct sales success in BE and became an honorary speaker of BE Legends.
He also cultivated 11 RCCAs, hundreds of qualified candidates for car and house funds, and led thousands of BE Lifestyle travelers. Having worked in the direct selling industry for 21 years, not only does he now have extraordinary freedom, but he also continues to enjoy a wonderful life.
---
MR. WILSON WONG (14 DECEMBER)
Wilson is a dietitian, who graduated, both his degree and master in International Medical University. Other than that, he was also a podcaster for a nutrition related podcast in Malaysia. He worked as a dietitian in the Genting Malaysia Berhad, providing nutrition consultation for the staffs in Genting. He had 5 years' experience in nutrition retail, nutrition talks and nutrition consultation.
---
RCCA JET TAN (14 DECEMBER)
Jet was once an engineer who worked in the field of Telecommunications for 10 years. Before Jet worked full time in MLM, Jet was the Director of that company.

Since 2012, Jet has worked full time in the MLM industry. Jet has over 15 years of experience in the MLM field. Jet has been one of BE's earliest founding leaders who started the business together with the Founder in 2017. There are 8 RCCAs, 19 CCAs, as well as many DCA and system council members in Jet's network. The extent of Jet's network includes Malaysia, Singapore, Brunei, Hongkong, Indonesia, Australia, and over 30 countries.
---
CCA CHIANG KWOK HAU (14 DECEMBER)
CCA Hau used to be a professional Microsoft IT consultant. He was also a Microsoft MVP, and even flew to Microsoft headquarters in Seattle every year. His clients are large telecommunications companies, banks, and oil and gas companies.
"I will never do Direct Selling. It is absolutely impossible to ask me to put down my ego and sell pants!"
Despite that, within two years in BE, his network has expanded to Singapore 🇸🇬, Taiwan 🇹🇼, Indonesia 🇮🇩, Australia 🇦🇺, Ireland 🇮🇪, UK 🇬🇧, and the USA 🇺🇸. They also successfully cultivated Taiwan's first CCA! CCA Hau and Samantha are also the company's MCO Superstars. During the movement control order, they helped many of their team members expand their network and earn a decent income!
The exponential growth of BE has transformed this big man 360, sharing BE products and opportunities non-stop every day, and 200% full-time with BE with his wife.
---
RCCA MARIAM YASIR (14 DECEMBER)
Mariam used to be a successful Real Estate Agent and never believed in MLM. Her husband is a successful businessman selling Aircraft Spare Parts, and they had a very comfortable life. However, after understanding the greatness of BE's products and the exponential growth opportunities in Network Marketing, she seriously took massive ACTIONS and worked hard to be an inspiring model for her network.
Today she is one of the founding leaders at BE and has spread her network internationally.
---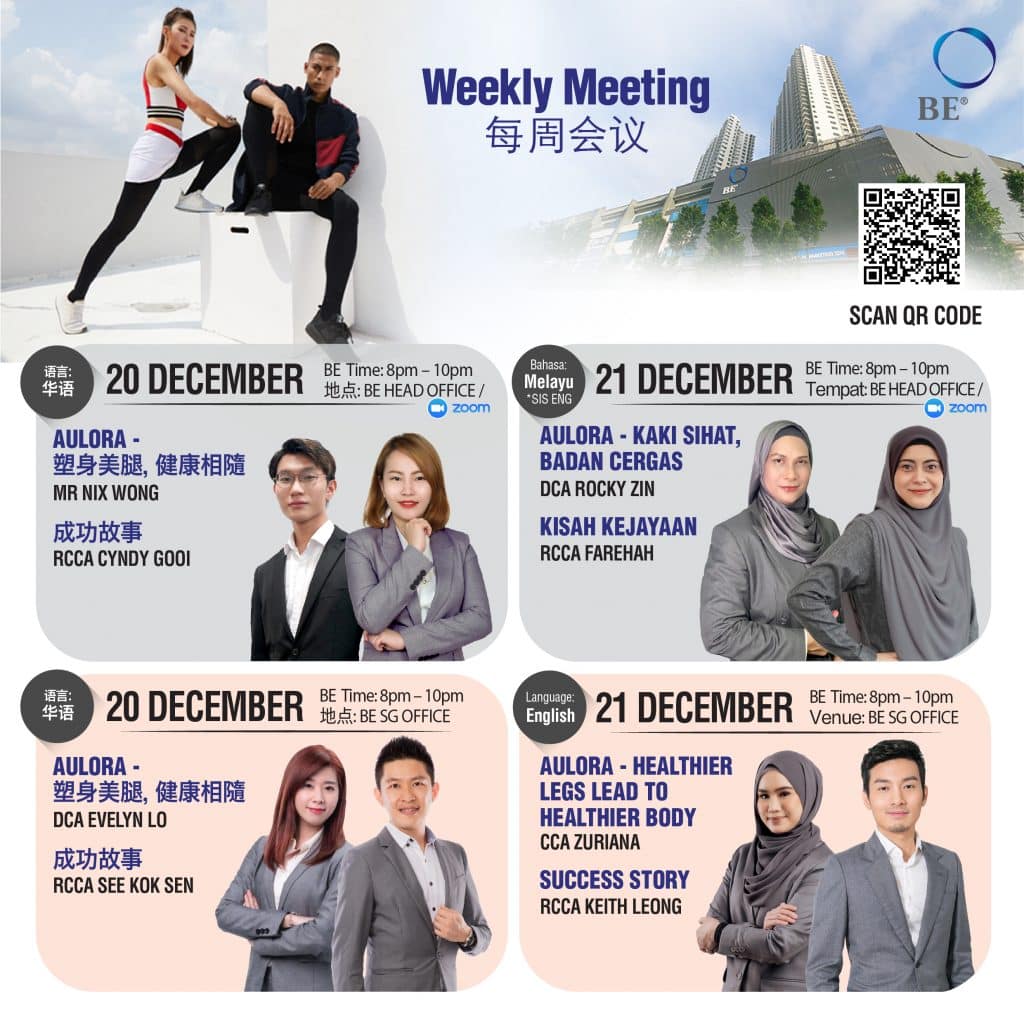 MR. NIX WONG (20 DECEMBER)
Nix Wong, a Bachelor's Degree graduate in Marketing and Event Management from INTI International University, is an energetic and passionate youth that loves sports. He is a fitness enthusiast that has spent more time working out in the gym, participating in sports such as football, volleyball, and swimming, than anything else. He has also participated and won multiple basketball tournaments locally and internationally as well.
Even at a young age of 23, he is already cautious about his health because he understands that a long and healthy lifestyle begins from an early age, and has begun studying the importance of health, hence he will be the perfect person to share his knowledge and studies on the importance of a healthy lifestyle and the methods to maintain it at an optimum level.
Prior to joining BE International, Nix was also a founder of a homegrown fashion brand known as Sold High Clothing Co. His passion for style and fashion will definitely elevate your fashion sense to better dress yourself with this beautiful range of AULORA Series.
---
RCCA CYNDY GOOI (20 DECEMBER)
Due to the economic downturn, Cyndy Gooi's family income had been greatly affected. As a housewife, she was required to earn an extra RM400 to financially support her family. However, the people around her were laughing about this number! Yet, RM400 was so precious for her at that moment!
After joining BE International, she keeps improving, becoming better and even surpassing what she had expected! Now, even her husband joins her to fight for their career in BE International!
She started BE International as a housewife, but she was then transformed from an ordinary housewife into a successful momtrepreneur!
---
DCA EVELYN LO (20 DECEMBER)
DCA Evelyn Lo used to work as a nurse in Singapore and Malaysia and has 12 years of experience in medical, surgical, and Oncology wards. Being a nurse is her dream job. With her occupational hazard of standing long hours, she suffered from a neck spur that affected her normal functions. AULORA Pants helped her to get back on her feet for long hours and she even wears high heels now. From then on, she never stopped sharing and has grown her network. In January 2020, Evelyn decided she wanted to help more people regain their health through BE products. She quit her nursing job and became a full timer in BE. Today her network is in Malaysia 🇲🇾, Singapore 🇸🇬, Taiwan 🇹🇼, and Ireland 🇮🇪
---
RCCA SEE KOK SEN (20 DECEMBER)
In the past, See Kok Sen was a young man with no education, no eloquence, and no connections. Although his abilities were not strong, he still believed that as long as he was willing to work hard, he could surely get ahead. However, after working hard for 10 years, he still couldn't see the future.
By chance, he got to know about the direct selling business and saw the charm of this business, so he made up his mind to change his life through this business. Because of choosing the right platform, coupled with constant effort and changing himself, he was promoted to RCCA after 19 months of hard work in BE!
His famous words: Don't use your present self to determine your future; believe in yourself, you can create infinite possibilities.
---
DCA ROCKY ZIN (21 DECEMBER)
She is a graduate in computer science from Oregon State University, USA.
Have worked as a consultant in a multinational company from the United States in the field of database management for 27 years.
She is also a certified practitioner in the fields of NLP, Hypnosis, Interactive Hypnotherapy, TimeLine Therapy and EFT.
She has an interest in outdoor activities such as cycling, hiking, and running. He even participated in a 21km running marathon, and after the event, his body was still comfortable and his legs did not cramp.
Satisfied with his own experience while wearing Aulora Pants and confident in its technology, he actively shares & helps restore the health of many people.
---
RCCA FAREHAH (21 DECEMBER)
Farehah is a Computer Science graduate from UTM, Skudai. She once worked in an MNC company but chose to sacrifice her career for the sake of her children. She has been a housewife for 10 years and is always worried about the fate and lives of her children if something unexpected were to happen to her husband. So, she started learning business from home online. However, the results were very unsatisfactory!
Once her mom recommended great testimonials for Aulora Pants. She began to share it with the intention to help the Muslim community carry out their prayers more comfortably. Many people have enjoyed its benefits and are getting healthier. Many people have been mentored by her to reach success.
Farehah places great emphasis on the 3H System & Culture in nurturing leaders who are independent and of caliber. She took 1 year 10 months to achieve all 9 of BE Benefits. Now her husband has also decided to join & fight full-time with her at BE.
---
CCA NUR ZURIANA (21 DECEMBER)
CCA Riana Rahman was a full time senior registered nurse of 14 years in a government hospital in Singapore.
She has a bachelors in Health Sciences from Curtin Technology University and an Advanced Diploma in Medical Surgical Nursing from Nanyang Polytechnic.
She has vast experience working in a high dependency unit.
Spirulina has helped her tremendously in providing essential vitamins and minerals for her and her family. Especially during her pregnancy.
She became an ambassador during her birthday which took place in SV6. In SV7, she DOUBLE RANKED to Emerald Council Ambassador and even scored Top 10 Sponsors. In SV8, she was crowned DIAMOND COUNCIL AMBASSADOR and in SV11 she became a CCA. In less than a year, she attained all 9 benefits that BE INTERNATIONAL offered.
---
RCCA KEITH LEONG (21 DECEMBER)
As a youngster born in the 90s, Keith Leong was hired and highly valued by international companies including a famous local TV company, but he felt that being an employee was hard to acquire a better life. Regardless, he did not know how to start his own business as he did not have any financial background. After meeting BE International, he realised that starting a business can be easy. He followed the pace of his upline, eager to make improvements. Now, his current one-month income is equal to his previous 24-month salary, and he also cultivated 6 RCCAs! He goes all out while he is still young, and has finally found a way to success!
---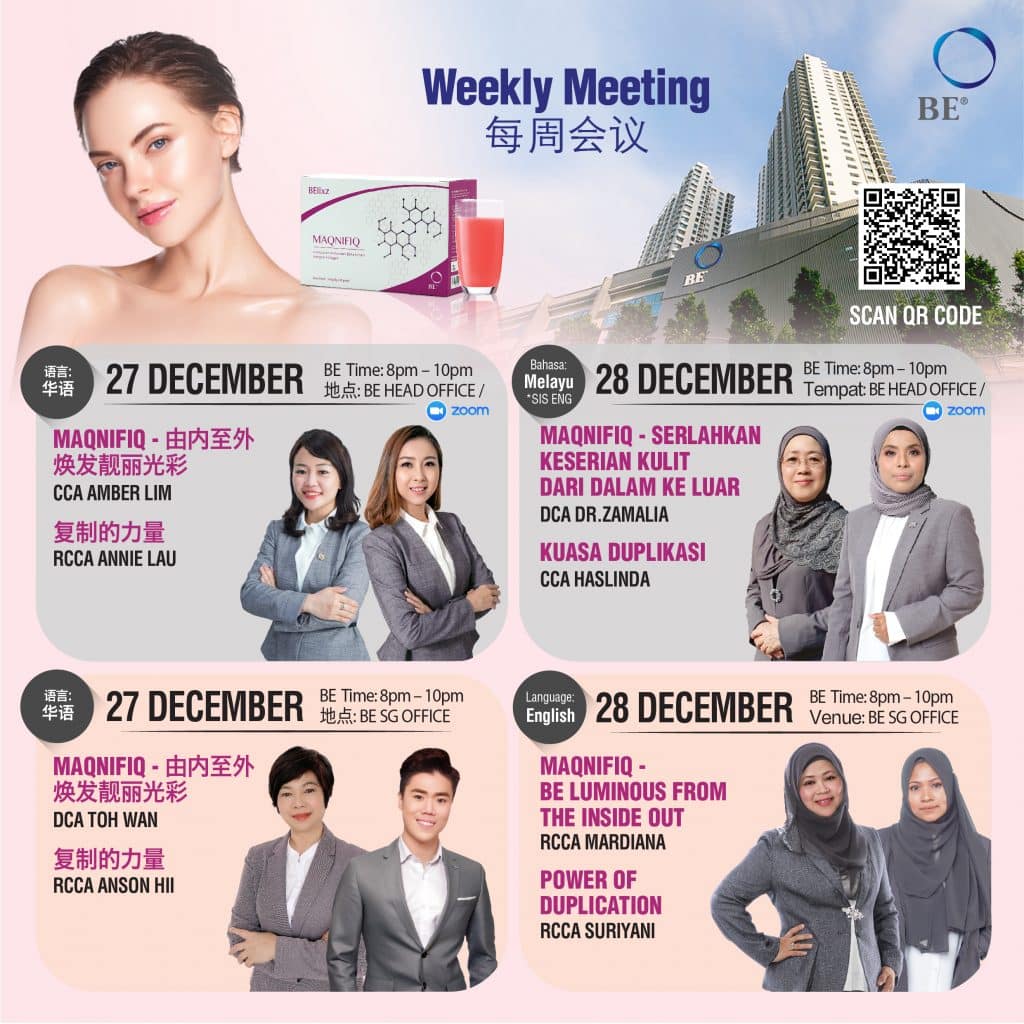 CCA AMBER LIM (27 DECEMBER)
Who is CCA Amber Lim? Originally engaged in wechat business, she needs to hoard RM20K worth of goods every month, so she has to borrow money from her father who sells fish to maintain it. Despite all that, her income at that time was only RM5K! It was estimated that she would not be able to repay the money she borrowed from her father even if she had years to do it!
She has been a housewife for 3 years and has become a happy woman who enjoys a happy life with her children every day! She never expected that there would be a catastrophe waiting for her. When her husband's business suddenly failed, he found himself facing a crisis.
Fortunately, she met BE in 2018, because AULORA Pants helped improve her stretch mark problem, and she saw the magic of AULORA Pants, so she devoted herself to the BE business. She has always been eager to find a stage where she can express herself! And BE gave her that opportunity.
She earned BE's 9 Benefits in just two years, including the year-end bonus, car fund, housing fund and so on. During the MCO period, when everyone was confused about the future, she bought a Mercedes GLC300 and even paid off the money she borrowed from her father! She smoothly achieved every BE Lifestyle Travel she participated in. She is CCA Amber Lim!
---
RCCA ANNIE LAU (27 DECEMBER)
She was a business owner in the mobile phone industry for 18 years and owned 9 mobile phone sales stores across KL. She felt that life was more than that, so she kept improving and changing herself until she met BE! Her diligence and positive thinking helped her become BE International's RCCA within a short period of time, 2nd top Ambassador Producer of the year, Top CCA Assemble for 3 quarters (Top 1 in one of the quarters), and three times consecutive BE Lifestyle Travel Grand prize winner. She is convinced that: "You can't change your origin, but you can change your future", so she still strives to climb the peak.
---
DCA TOH WAN (SUSAN) (27 DECEMBER)
Susan Toh has over 20 years of experience in the insurance industry. Through the sharing of friends, she got to know AULORA Pants and tried the product herself. She found that it did wonders for the soreness in her waist and legs that had plagued her for many years. She joined BE immediately and actively shared this amazing pair of pants with her family and friends! As she now has a deeper understanding of the 6 pillars of BE, the culture of the family, the philosophy of the company, and the 9 major rewards of BE, she is all the more convinced of the future and vision of the company. Therefore, she always gives it everything she's got and rose to the rank of DCA in just 6 months!
---
RCCA ANSON HII (27 DECEMBER)
Anson Hii Post-90 Ex Flight Attendant. In order to make more money in Singapore, tried his best to engage in car rental and car washing industry. Direct Selling White Paper , used to deliver Maqnifiq Collagen in Singapore on a bicycle. After meeting BE, went from bicycle to a Mercedes Benz. From renting rooms to having the ability to buy his own 3 storey Semi-D. The third SAN Galaxy Award, Top Ambassador producer for 4 consecutive quarters, Top 10 CCA Assemble, Top sales Onlive achiever 2 years achieved RCCA , organization has travelled to 18 countries.
---
DCA DR. ZAMALIA (28 DECEMBER)
Dr Zamalia has been a lecturer and professor in Statistics at a University in Selangor for 30 years. Her husband is also a former Human Resources lecturer who just retired in 2020. In mid-December 2019, destiny tied her with Aulora Pants after it was introduced to her by her fellow lecturers.
Although skeptical at first, after she and her husband felt the effects of their health recovery after wearing Aulora Pants, and her husband recovered from a slipped disc problem after almost 2 months, she started sharing the benefits of the Aulora Series with friends. She didn't think Aulora Pants would take her towards a second career path that never crossed her mind as an academic. She learned from the shared experience of the product and the marketing plan of BE139 through the BE education system. Without thinking too far ahead, she continued with the BE business. She managed to become an ECA within 5 months, and her last achievement was DCA. Her next effort is to grow the network & nurture more great leaders up to the RCCA rank.
---
CCA HASLINDA (28 DECEMBER)
She graduated from the Faculty of Architectural Planning and Surveying at UiTM Shah Alam with a Bachelor's Degree in Landscape Architecture and now has 15 years of experience in related fields. In December 2021, the company she worked for was affected by the pandemic and 200 employees were let go through layoffs and the VSS (Voluntary Separation Scheme). CCA HASLINDA, who was originally a senior design and structure engineer there, ultimately also left the company during that time. She is very grateful for the opportunity to join BE. Her aunt introduced her to the BE business in October 2020 before she left the company, she had worked in for almost 10 years. After joining BE, she has achieved many amazing things one after another, including becoming an ambassador within 12 days, successfully qualifying for the VVIP Trip in Osaka, Japan in only 83 days, achieving the rank of DCA with a 5-figure income within 4 months, and frequently appearing on the Top Challenger list. It took her 11 months to reach the rank of CCA and earn all 9 Benefits from BE International. Her latest achievement so far is placing 1st in the Top CCA Assemble in Q2 and 8th in The Challenger in Q4!
---
CCA MARDIANA (28 DECEMBER)
Mother of 4 active boys. Founder of ByMommaDee, est in 2015. Specialised in kids friendly products, believes in natural healing for herself and family. Always on the lookout to find gentle ways to care for her family. She saw the miracle of AULORA PANTS, and being a business owner herself, she saw the business opportunity after producing her first Ambassador. With perseverance and commitment, she unlocked all the 9 benefits including car and house fund bonus in 14 months and her first RCCA was born under her Team too. Her name was listed in BE Scoreboard consistently as Top Ambassador Producer in Q4 of 2021, Top 10 CCA Assemble in Q1 of 2022 and Top Sponsor in Q3 of 2022. And within 2 years in BE International, she successfully achieved the rank of RCCA! With the correct attitude and mindset, along with focus and consistency, she BE-lieves everyone can do this business.
---
RCCA SURIYANI (28 DECEMBER)
Suriyani is a real estate and insurance agent with a 5-figure commission. She never believed in MLM, but after some time, after attending a meeting, her passion began to burn because she noticed the great potential in MLM.
A great career gives pride – but BE can give satisfaction that cannot be expressed by words. She is very happy to be able to help others. She has been striving on this platform full-time with her husband for 15 years. She was one of the founding leaders of BE International and has nurtured 3 RCCAs in her network. Her network comes from Singapore, Brunei, Malaysia, Indonesia, Melbourne, Canada, the Middle East and from around the world.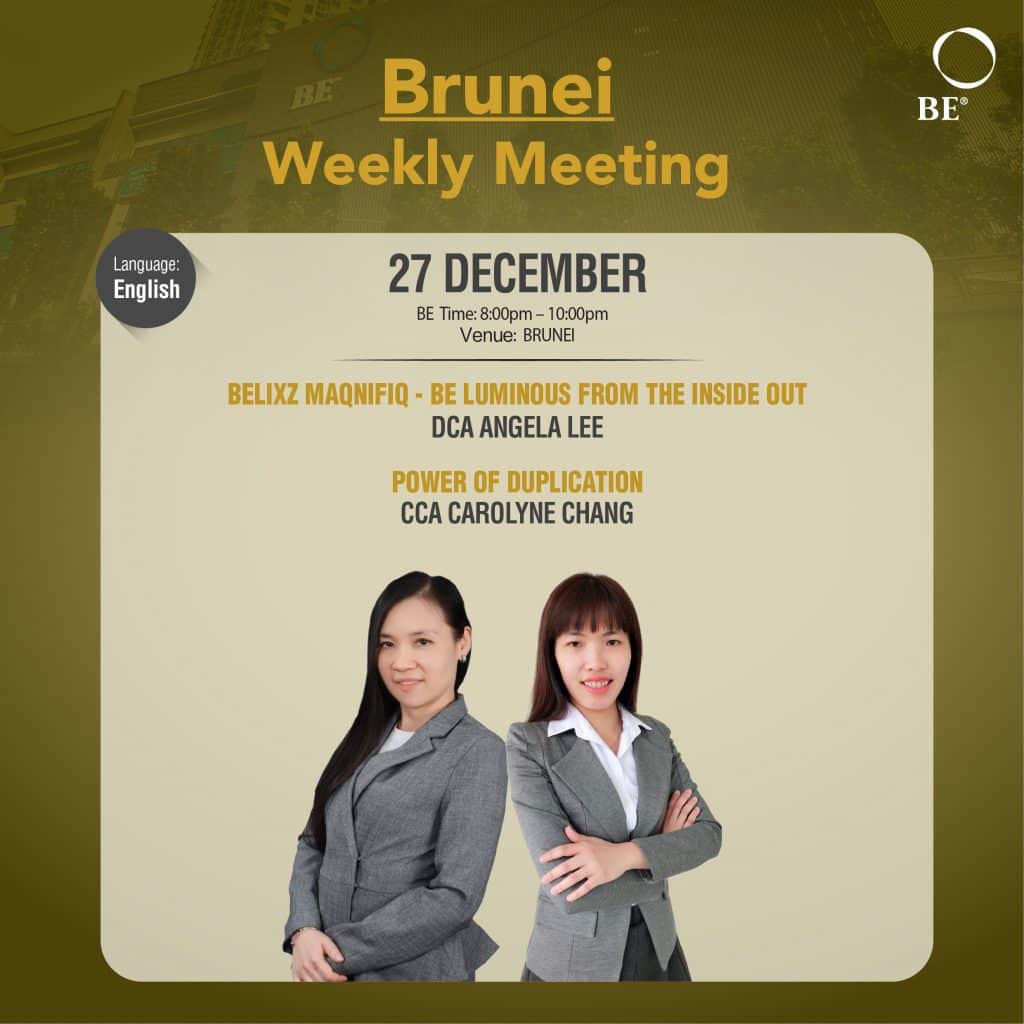 DCA ANGELA LEE (27 DECEMBER)
Why did DCA Angela Lee (belonging to RCCA Joanne Liew's organization) from Miri and now in Brunei join BE⁉🤔🤔
Angela says: I watched my friends who are housewives all get car funds and own their own luxury cars, but I was an accountant, and I am not as successful as them. As a professional accountant, I have lived a busy life for many years, but in the end, I have not achieved much. Now I have gained more things through BE.
Angela holds a Bachelor in Accounting and Finance (Bachelor in Accounting and Finance). After graduation she became an accountant for 16 years. She is also an excellent baker and owns a Cafe in Brunei. In addition to giving baking courses, the Cafe also sells her baked goods. During Chinese New Year, her Cafe gets very busy, coupled with the lack of employees and various other problems that ordinary bosses will encounter, it makes her life very busy. This kind of life made her think about the future, and she had a deeper understanding of the phrase "all the money earned is for the doctor in the end".
During the New Year period after she joined BE, she only needs to sincerely open her mouth to share with those in need, simply "𝗯𝘂𝗸𝗮 𝗺𝘂𝗹𝘂𝘁, 𝗯𝘂𝗸𝗮 𝗸𝗲𝗱𝗮𝗶", and keep repeating 3S, 3H, in exchange for a very impressive passive income. So after she devoted herself wholeheartedly to BE, she also achieved great success!
She is very grateful to BE for giving her the opportunity to become a happy entrepreneur. She adheres to the life principle of "As long as you want, you can", and actively helps more people regain control of their careers and health!
---
CCA CAROLYNE CHANG (27 DECEMBER)
Carolyne is a tuition centre owner and has 20 years of tutoring experience for high level secondary school. She graduated from Sheffield Hallam University in UK, with a Bachelor's Degree in Building Construction Management. To shoulder her family burden, she didn't pursue her profession but chose to work full-time in tuition because she wants to spend more time with her children. She had gained back her health because of Aulora Pants and BE products. She bravely decided to close down her tuition center to pursue the BE career. She was willing to learn and accept all advice and teachings from her upline mentors. She has built up a huge network covering more than 5 countries and qualified for all BE 9 bonuses.
---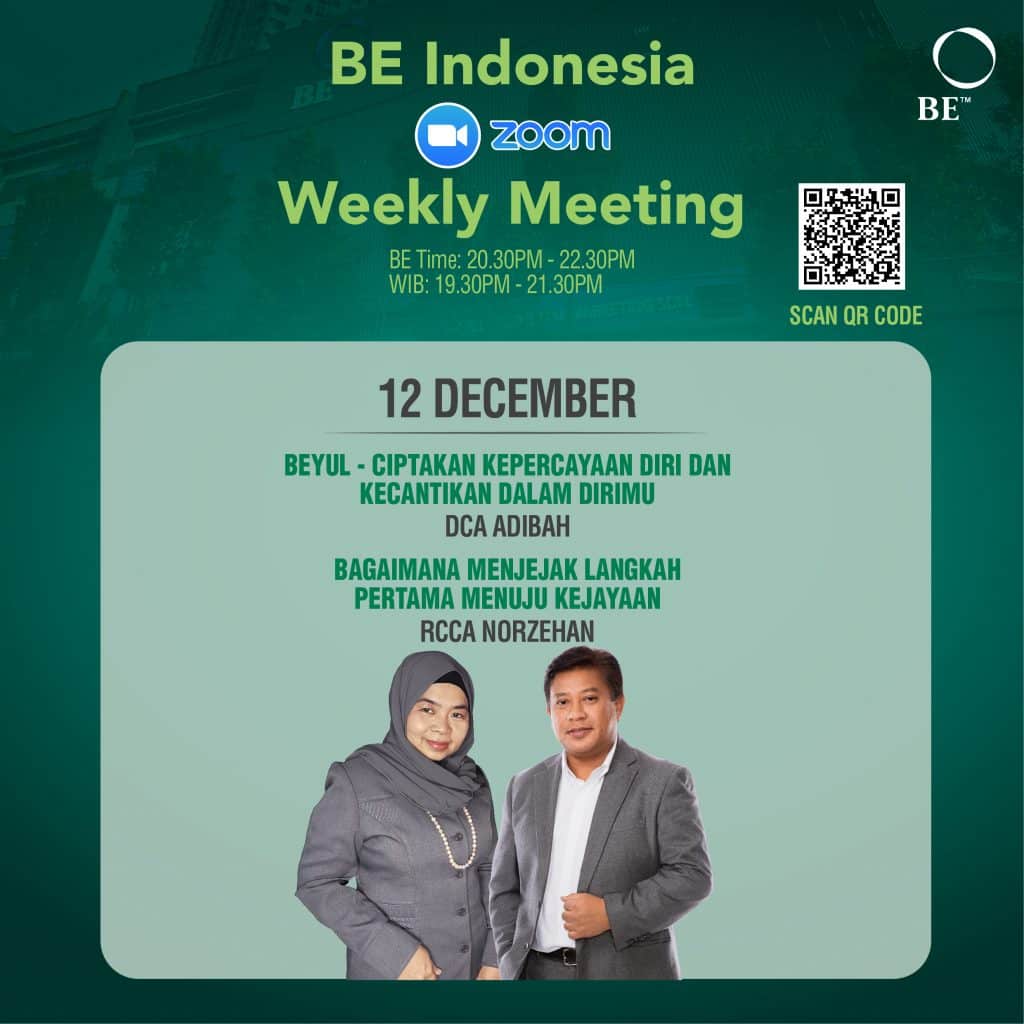 DCA ADIBAH (12 DECEMBER)
A woman who left her career as a microbiologist over 24 years ago to focus on her family and educating her three children, one of whom was born in Sydney, Australia, and the other two in Bangkok, Thailand.
Despite being busy managing the needs of her children and husband, she is quite concerned with and places great emphasis on health. She experienced a slipped disc, knee pain (osteoarthritis) and leg pain (ligament sprain) to the point she had to use crutches and even pray while sitting. But after wearing AULORA Pants and AULORA SOCKS for less than two hours, she could already get up from prayers comfortably. She then tried squatting.. once, twice.. up to 100 times!
Excited by her miracle, Adibah never gets tired of sharing it with family and friends even now that she has become a Diamond Council Ambassador (DCA), and has a network of almost 1000 IBOs built in 11 months! About 200 of them are health practitioners, including doctors, nurses, therapists and pharmacists.
---
RCCA NORZEHAN (12 DECEMBER)
He is a former Assistant Engineer that have never believed in the MLM business. But having understood the huge potential in MLM, He goes all out to strive for his dreams! That is earning passive income and obtaining time freedom for himself and his family.
He has been doing the MLM business full-time for more than 10 years with his wife now. He is one of the founding leaders of BE International and an International leader to his network group in Singapore, Malaysia, Brunei, Indonesia & Melbourne.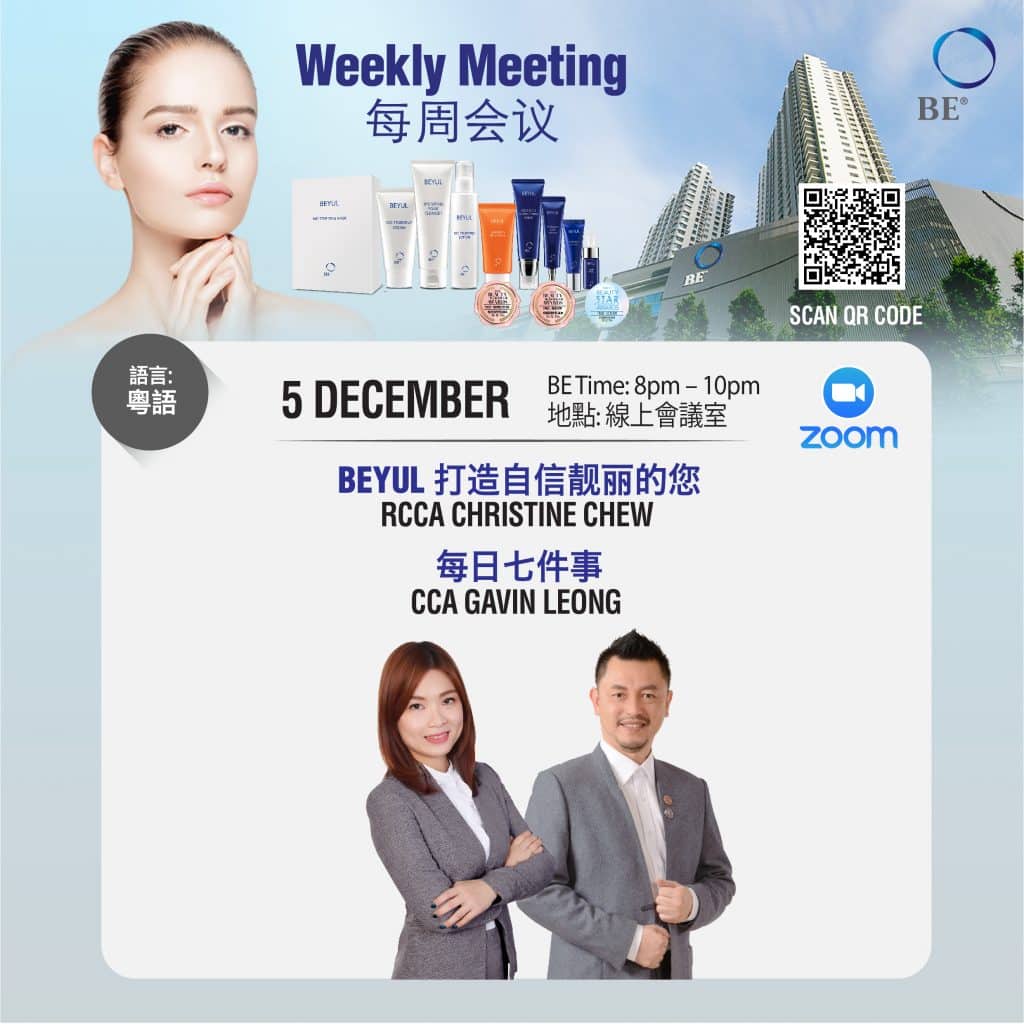 CCA GAVIN LEONG (5 DECEMBER)
Gavin Leong started in the IT business at the age 20. After that, he also invested in the F&B business with 10 outlets in Malaysia. Gavin is a risk-taker, and any good opportunities that he meets, he will immediately seize them and try to break through.
When he realized that BE is an online worldwide business with many opportunities, he gave up all his businesses to work full time in BE.
---
RCCA CHRISTINE CHEW (5 DECEMBER)
Christine Chew is a full-time mother who has no worries about food and clothing. She has a happy marriage and well-behaved children. She occasionally goes for shopping, afternoon tea, and travels abroad with her family several times a year. One day, when her husband was admitted to the hospital in an emergency, that's when she realized that she also needed to protect her family. So she decided to look for career opportunities. Many experts say that direct selling is the trend of the future, and she has gradually begun to understand the potential of direct selling.
At this time, she met the golden opportunity of BE. After 9 years without work or direct sales experience, it was very difficult for her to start her career in BE. Fortunately, her mentor and upline was there to guide her, gradually transforming her into a successful leader, until she promoted to RCCA within a short period of time, and soon, her network expanded to many countries.
From a someone without a career life goal to a mother who is now taking care of both her career and family, her life is guaranteed and she is not threatened by unexpected things. That is true happiness.
---