After three years, BE International Marketing Sdn. Bhd. has returned with their 2023 CNY Open House celebration at their Malaysian HQ, Singapore, and Hong Kong branches last Saturday (February 4th), to the excitement of nearly a thousand attendees and respondents.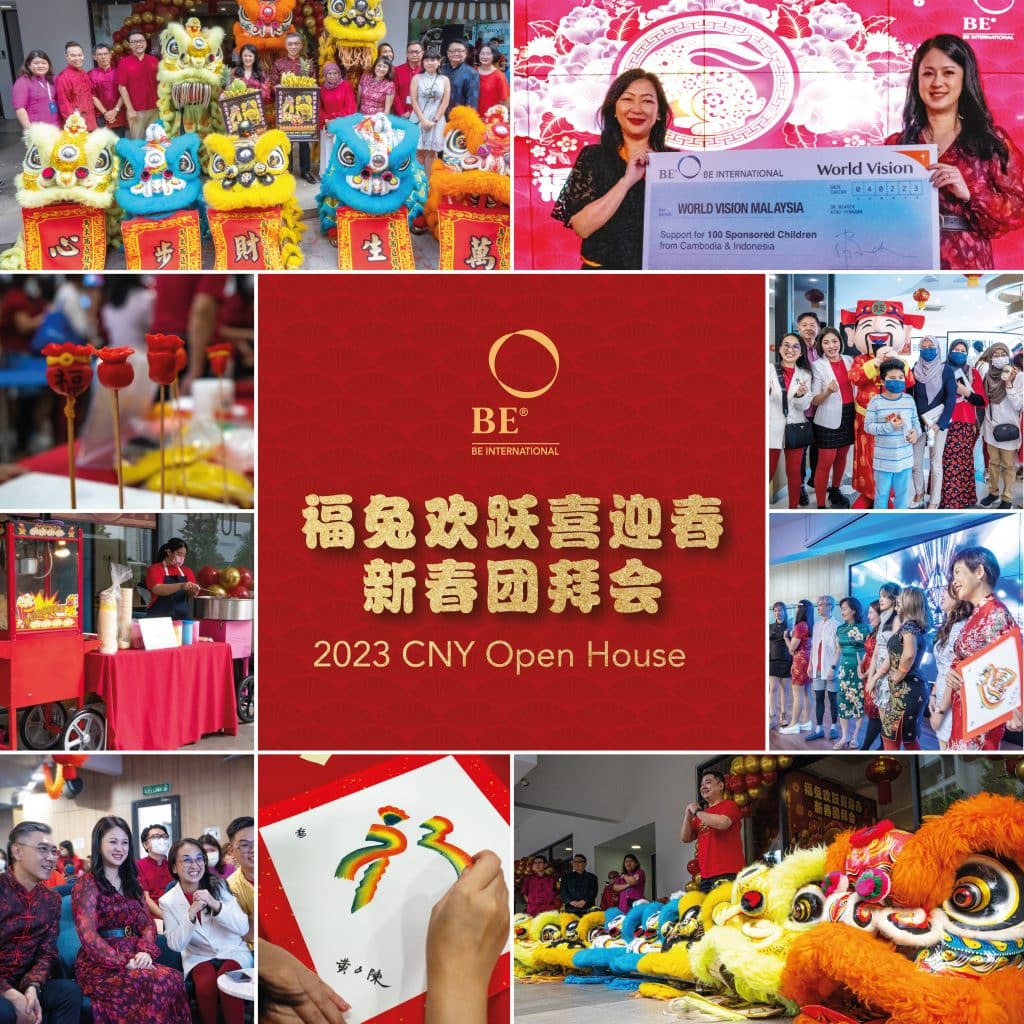 In addition to the health knowledge and opportunity information sharing, as well as the lucky draw activities throughout all 3 locations, Lion Dances, Event Booths featuring Traditional Chinese Dough Dolls, Cotton Candy, and Popcorn, an AULORA Apparel Fashion Show and more were also specially held at the Malaysia HQ.
The AULORA Apparel Series alongside various nutritional products such as their nutrient rich SHIRUTO were all put on full display, made even more affordable by the many promotions of the day. On the spot buyers at the Malaysia HQ were even able to enter a special Lucky Dip and Win Event. The air was electric as participants enthusiastically awaited the results.
Ir. Lee Suet Sen, Founder, President & Group Managing Director of BE International, also spoke of the celebrations' deep symbolism in his speech. "It is a time for renewal, a time to bid farewell to the past, and a time to set new goals for ourselves in the promise of a better future." He expressed along with his hopes for all to reorganize their lives and begin anew their journey this 2023.
Even in celebration, BE International reaffirms their mission to "inspire minds and touch lives for eternity" by once again collaborating with World Vision to continue the sponsorship of 100 children from Cambodia and Indonesia for another 3 years. BE Founder & Executive Vice President, Ms. Ho Huey Chuin, publicly pledged a cheque to World Vision, which was received by their Head of Resource Development, Ms. Winnie Khor.
Since 2018, they have consistently participated in World Vision's Child Sponsorship Programs without fail. Many of their members have sponsored children from Myanmar and Vietnam in past pledges while also donating to many other impoverished rural communities.
BE International has always spared no expense on their quest in public welfare. They have donated to the Sin Chew Daily Foundation many times, all while extending a helping hand to orphanages and educational institutions. Many social corporate responsibility awards such as the Asian Corporate Social Responsibility Award (AREA) and the 2019 and 2022 Malaysian Healthcare Brand Social Corporate Responsibility Awards have since been awarded to BE International in acknowledgement of their philanthropic work. Their redeclaration this year to the betterment of society is a show of their commitment to bringing positivity and happiness to all.