MALAYSIA HYBRID ZOOM LINK (TUES, WED)
https://zoom.us/j/91774573678?pwd=cTBkNVJUbDE3eFlneDhrOTBxUjAzUT09
SINGAPORE ZOOM LINK (WED)
https://zoom.us/j/96448759502?pwd=MHZmSkp3Mjc3WHJRTDZTQ1hTVk42Zz09
HONG KONG CANTONESE ZOOM LINK (MON)
https://zoom.us/j/93913634592?pwd=U2NoTG1mOC9EU01tMllxVU9UVjlUdz09
INDONESIA ZOOM LINK (MON)
https://zoom.us/j/92180623010?pwd=Zm14V29oSzFBUWg4WllJR0xWSllLZz09
---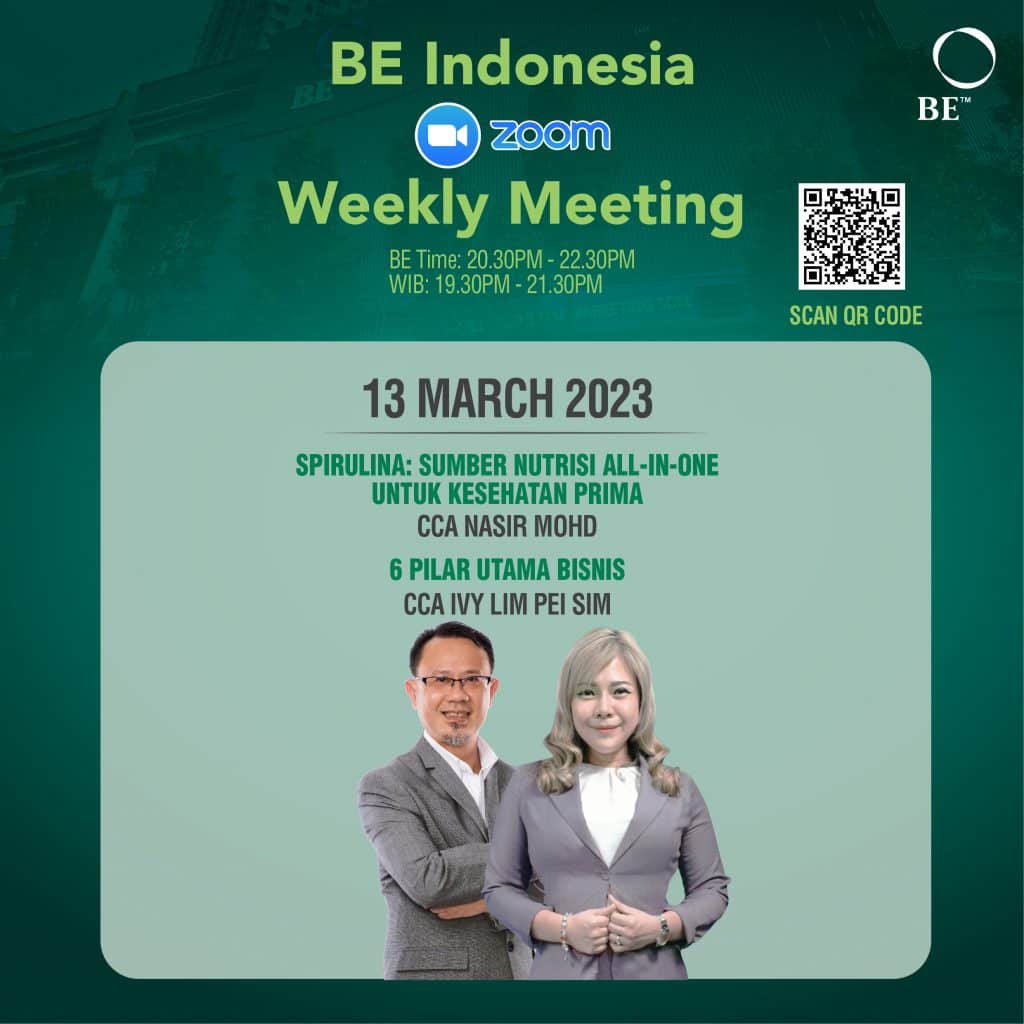 CCA Ivy Lim Pei Sim (13 MARCH)
Ivy Lim graduated in Performing Arts of Music from University Malaya. She was a music instructor for 3 years at Cempaka International Schools. In 2010, she resigned and became a homemaker. A mother of two lovely daughters, her husband was a senior management professional in IT from a big corporation in Malaysia.
---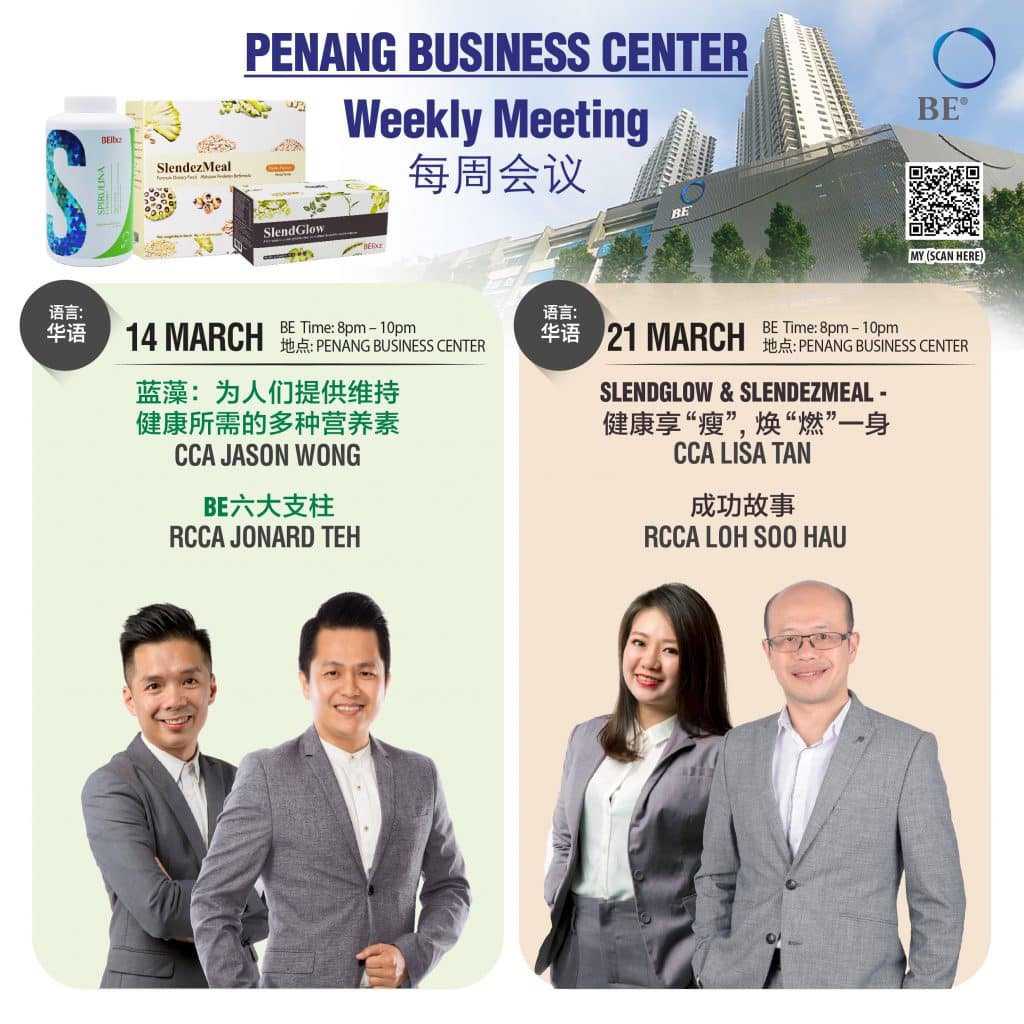 RCCA JONARD TEH (14 MARCH)
Form 5 Graduate Worked for a year. Unsatisfied with being employed. Began experimenting with MLM from 19 years old, never succeeded. Started a mobile phone store by himself, and created 7 different businesses with his wife. Failed investments and a 6 figure debt. Invested in MLM's again, followed the Founder's leadership, had the debt paid off, became BE's RCCA within 15 months.
---
RCCA LOH SOO HAU (21 MARCH)
Loh Soo Hau worked as an engineer for 2 years and later as a sales manager, with 16 years of sales experience in the electronics industry. Although his monthly income reached 5 figures, he still felt that he was working for others. He wanted to stand on his own. However, venture capital and competition in the industry deterred him.
Later, he met BE, a platform for realizing his dreams. He decided to resign his job after 1 year of part-time in the BE career, and stepped out of his comfort zone to work full-time in BE!! Although he did not have much direct selling experience, he has mastered the essence of 139 and followed the BE system education. He completed the BE9 benefits within 14 months and became RCCA!
---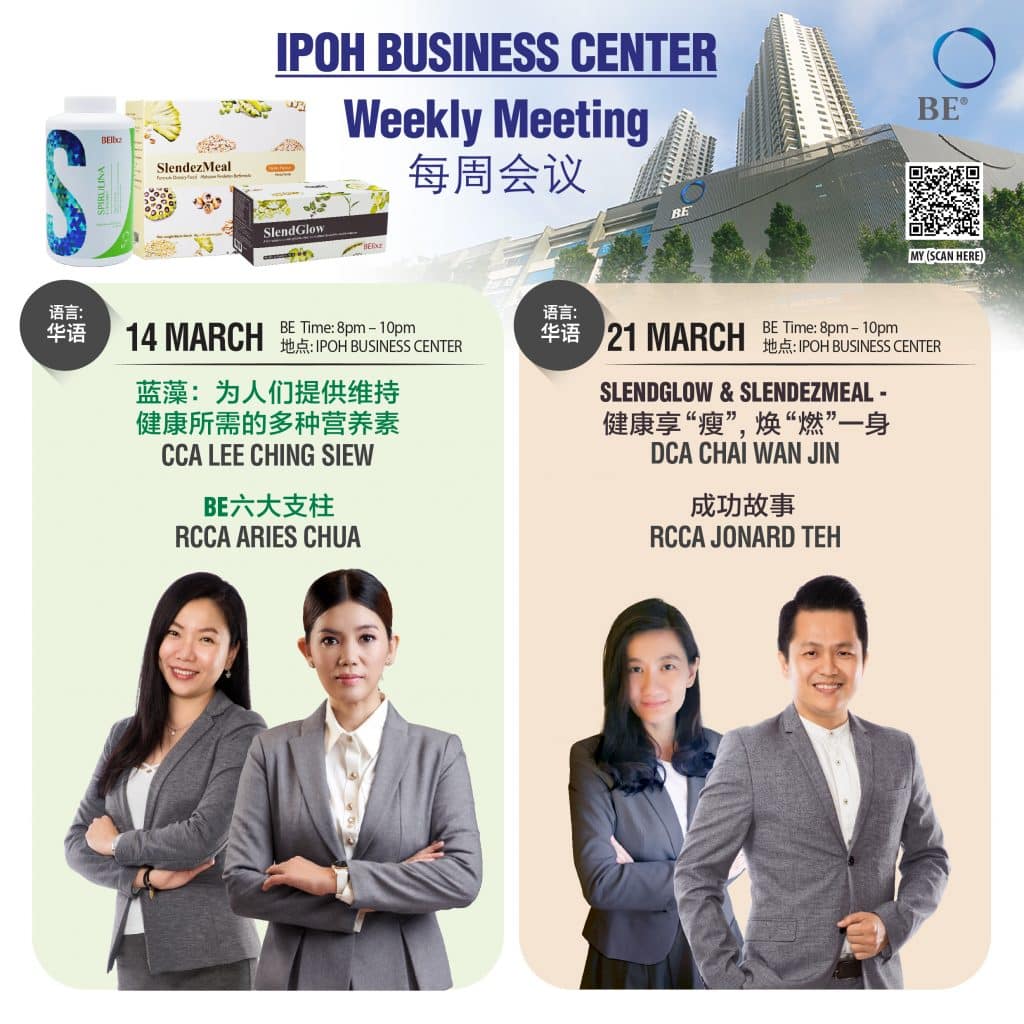 RCCA ARIES CHUA (14 MARCH)
Aries Chua is a single mother who started out as an on-call GRAB driver because of her livelihood, and she always reminded herself that she cannot be at ease. Later, after meeting her upline and BE, it became a turning point in her life.
After three months of hard work in BE, her income reached 5 figures. In 5 months, she obtained the 9 major benefits of BE. In fact, she felt that it was not difficult to engage in BE at all. Having no money to support herself and her children was the most difficult reality of life she had to face!
---
DCA CHAI WAN JIN (21 MARCH)
Chai Wan Jin is a chartered accountant and had worked as a finance manager in Singapore for 10 years. She has been carrying the role of CFO in her family business since 2006. She has benefited from BE Aulora pants that solved a long term back pain issue and hence, started to share the BE business. Despite her zero experience in the direct selling industry, she was promoted to ambassador within a month and completed her BE 139 in a short period.
RCCA JONARD TEH (21 MARCH)
Form 5 Graduate Worked for a year. Unsatisfied with being employed. Began experimenting with MLM from 19 years old, never succeeded. Started a mobile phone store by himself, and created 7 different businesses with his wife. Failed investments and a 6 figure debt. Invested in MLM's again, followed the Founder's leadership, had the debt paid off, became BE's RCCA within 15 months.
---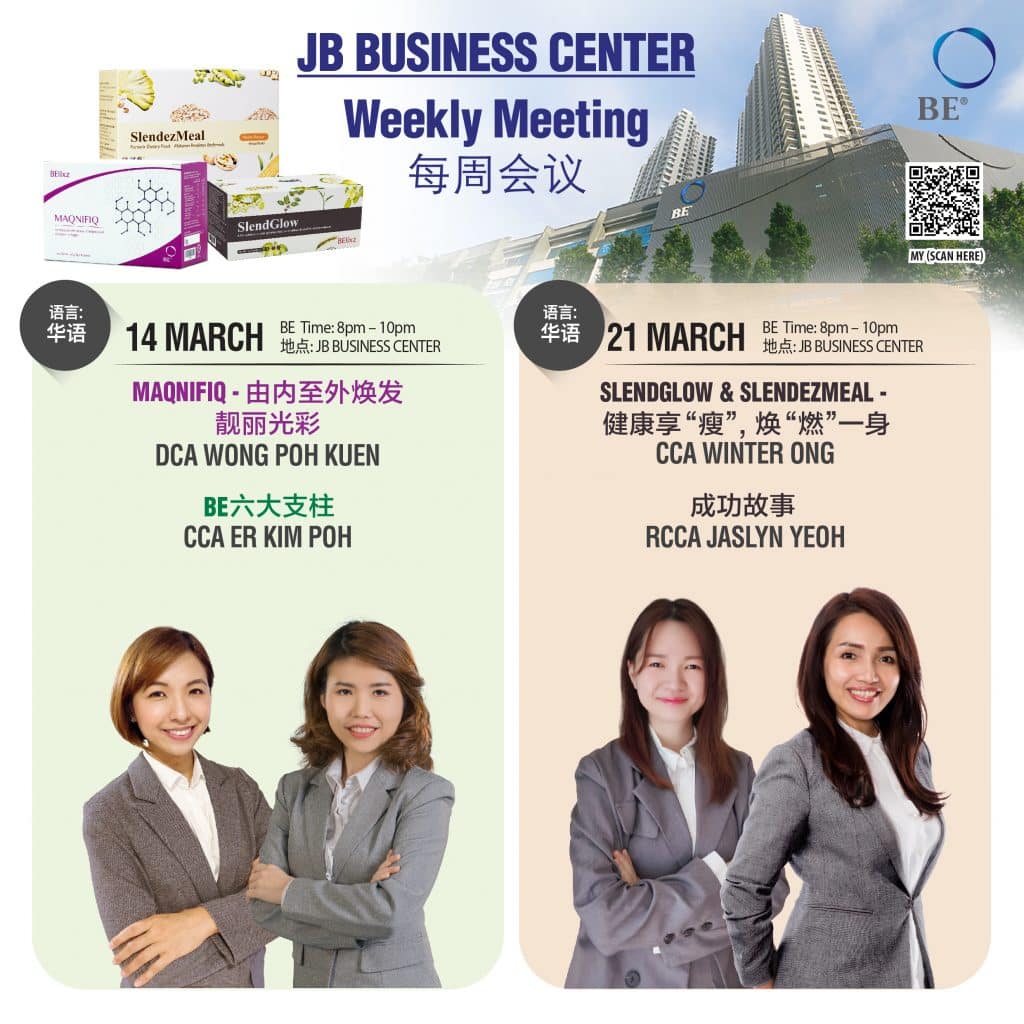 CCA WONG POH KUEN (14 MARCH)
Tammy is a mother of two and she is currently a full time housewife. She a certified Auditor with one of the big 4 in Singapore before she becomes a stay at home mum. Backache had been bothering her for months improved in just 3 days and she slept so well on her first night with the Aulora Pants.
She knows nothing about MLM but was amazed by the effectiveness of Aulora Pants. She started sharing with her friends and family hoping that the pants can help others too as she realized how good blood circulation can fight off and avoid potential diseases and sicknesses.
---
CCA WINTER ONG (21 MARCH)
SRCA! CCA Winter Ong is a principle of a kindergarten. She doesn't like MLM at first, but she has changed her mind after get to know more about BE International.
After MCO 1.0, her husband CCA Stanley and her have achieved house fund and bought their new car. Her husband even sold their business and full time in BE! They achieved SRCA last year May.
RCCA JASLYN YEOH (21 MARCH)
Jaslyn Yeoh started her first beauty salon at the age of 19; she founded a wholesale beauty salon at the age of 21; before she was 24, she worked in 7 different industries. However, a business failure brought her a serious setback!
Later, she discovered that the low cost and multiplying market of direct selling can help her easily start a business and realize her dreams! She joined BE in 2017, when her first month's income exceeded 5 digits. In the 15th month, she was promoted to RCCA!
---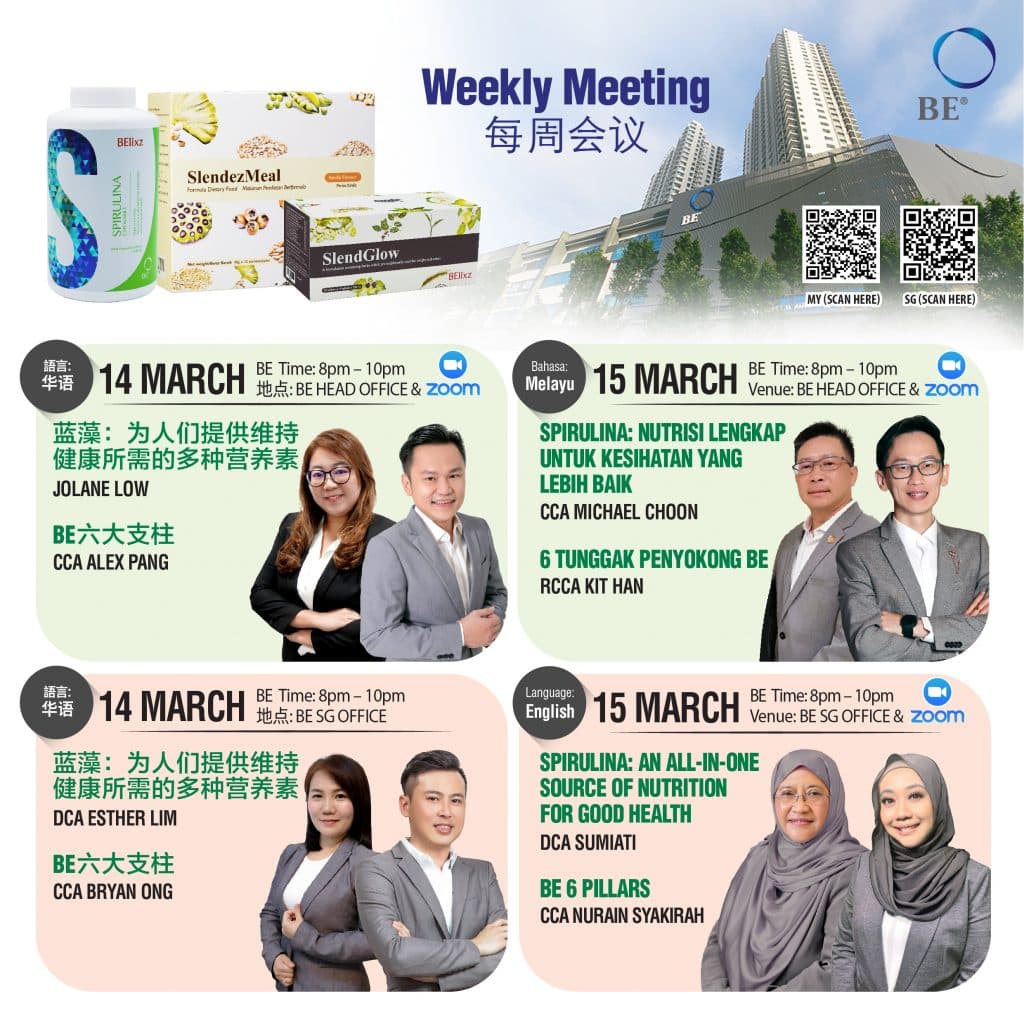 MS. JOLANE LOW (14 MARCH)
Marketing Manager of BE International. Also a Nutritionist with the experience in nutrition consultation in pharmacy and 11 years of experience of product training, marketing and branding in MLM industry.
CCA ALEX PANG (14 MARCH)
Started working at age 14, Started a business at 18, Huge success by age 25, Entered the F&B Industry at the age of 30 and lived a stable life. In 2018, I bought a pair of Aulora pants for my wife, which improved her health, i shared it with relatives and friends, was allowed to travel. I went to Japan to meet the founders and senior leaders, and I saw that the MLM industry with the power of multiplication had the potential to be a global business. After returning, I worked with my wife. Promoted to CCA within 7 months at BE, and got all 9 major benefits."
---
CCA ESTHER LIM (14 MARCH)
Lim Hui Sean worked for 11 years and has been operating a micro-business for 3 years. Soon, because the AULORA Pants alleviated her problem with stretch marks, she later learned about BE's market plan.
She decided to start the BE business and be successful. In two years, she completed the company's 9 major benefits, and now, her network has expanded to Australia, Switzerland, Taiwan, Singapore, Vietnam, the United States, the United Kingdom, and other countries.
CCA BRIAN ONG (14 MARCH)
CCA Brian Ong, who dislikes studying, has no diploma and began working at the age of 16. He went to Singapore to make money and had a business with his father, but it encountered all kinds of difficulties, and he eventually had to close it down. Brian continued to work as a migrant worker. Later, he met BE and his recruiter, RCCA Shi Guosheng, and his life began to change! In the past, he thought that he could only live by hard labor without academic qualifications and eloquence. However, under the influence of BE's systematic education, he successfully qualified for the 9 benefits and became a CCA. "
---
RCCA KIT HAN (15 MARCH)
A software engineer with 10 years of experience, he quit his job along with his wife, both highly paid employees to begin their journey with BE International. Initially, he was skeptical about AULORA Pants but after wearing it himself, it improved his health and helped with his body numbness. Since then, He started his BE journey Currently, he has expanded his network to MY, SG, HK, Taiwan and more with a worldwide membership of more than 28,000 members. As of today, they have cultivated a total of 5 RCCAs with 2 more waiting in the pipeline.
---
DCA SUMIATI (15 MARCH)
Sumiati Said , 61 yrs old, a Kinesiologist , Sound Therapist , Developmental Kinesiology Practitioner and a Bal -A-Vis Trainer. She runs a center for children with learning challengers and children with special needs in Singapore.
She bought the Aulora pants to improve her varicose veins she developed because of the frequent travelling and long hours standing during training. Not only her varicose veins improved her back was strengthened despite the long hours spent for cooking for four families ann Ramadan prayers. Many parents started asking her for solutions with their ADD, ADHD and kids with autism who throws tantrum and refused to do their therapy at home. They were actually restricted in movements and emotionally unbalanced. She shared with them the benefits of Aulora pants n since then embraced Aulora pants /top / socks as part of their therapy uniform at her center. The kids are calmer n their emotions better regulated.
CCA NURAIN SYAKIRAH (15 MARCH)
Nurain is a graduate from Monash University, Australia with a Bachelor in Early Childhood Education. Before venturing full time in BE, she was an early childhood practitioner of ten years with expertise in storytelling. When the pandemic struck and with zero knowledge and experience in Network Marketing, she decided to venture into other streams of income.
Little did she know, BE was right there ready to open doors to many opportunities and possibilities for her. Throughout her journey in BE, she has appeared in the TOP 3 in Top sponsor 2021 and TOP 10 in Top 10 Ambassador Producer. Within 10 months, she unlocked the 9 bonuses. She is currently a Senior Crown Ambassador in BE International.
---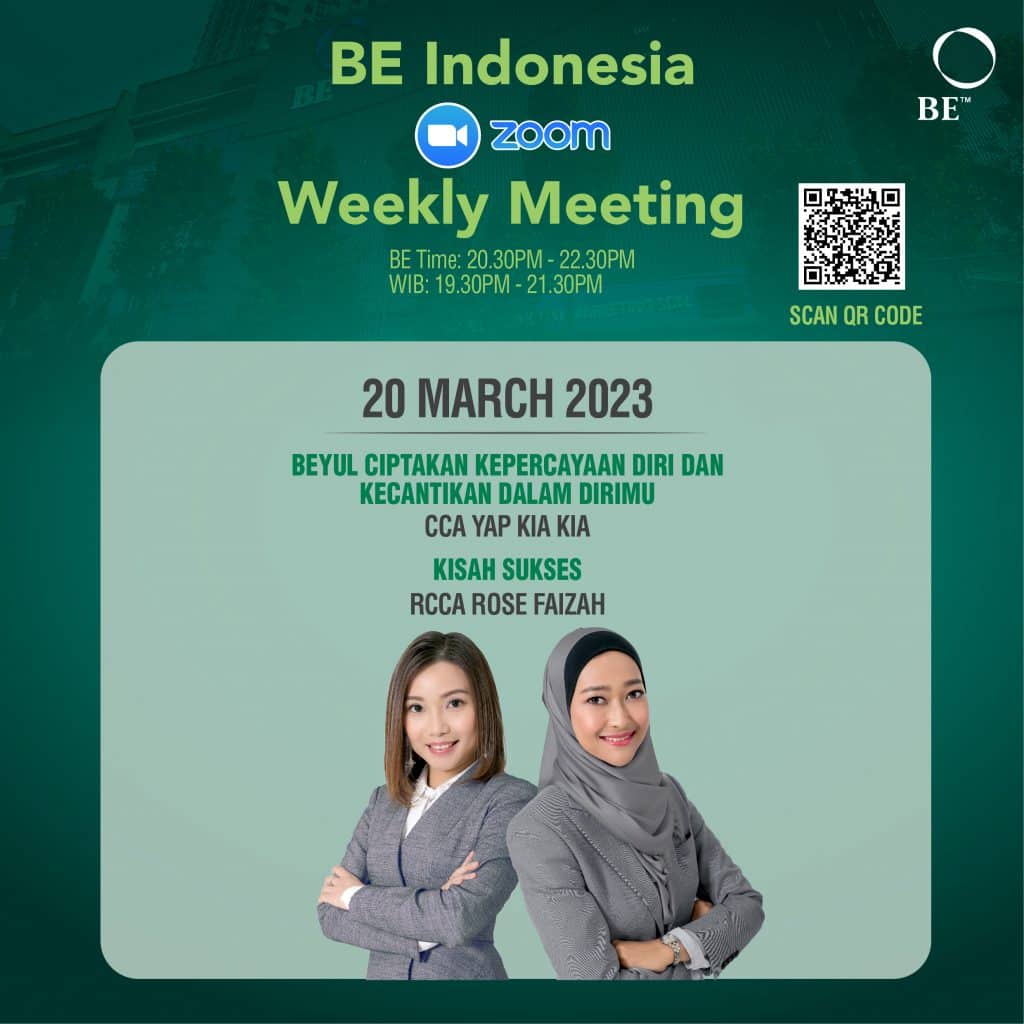 CCA YAP KIA KIA (20 MARCH)
Yap Kia Kia, who graduated from the University of Malaya in Telecommunications Engineering, was a telecommunications engineer. She was a quiet person with no contacts and no sales experience.
BE's Aulora Pants helped her alleviate rheumatism and lower back pain, and her family also benefited from the Aulora Series. They have become loyal fans since then. Before that, she rejected direct selling. After seeing the power of duplication in direct selling, she changed her career to start working full-time in BE.
In the process of striving in the BE business, she not only helped many people improve their health but also built her network in many countries. Now, her income and achievements in BE have far exceeded her income and achievements in the engineering industry.
RCCA ROSE FAIZAH (20 MARCH)
Rose Faizah used to work as an assistant quantity surveyor in JKR, Malaysia. At the age of 23, she first got involved in the direct sales business immediately after using a product that has helped her regain her health. Direct sales have given her the opportunity to realize her dreams as well as given her the opportunity to repay her mother's kindness and love.
She is very confident that the effort poured properly in the right opportunities and platforms, will ultimately bear fruit. Now, she wants to expand her international network along with the 3 BE International founders and BE family members to become Legends at BE!
---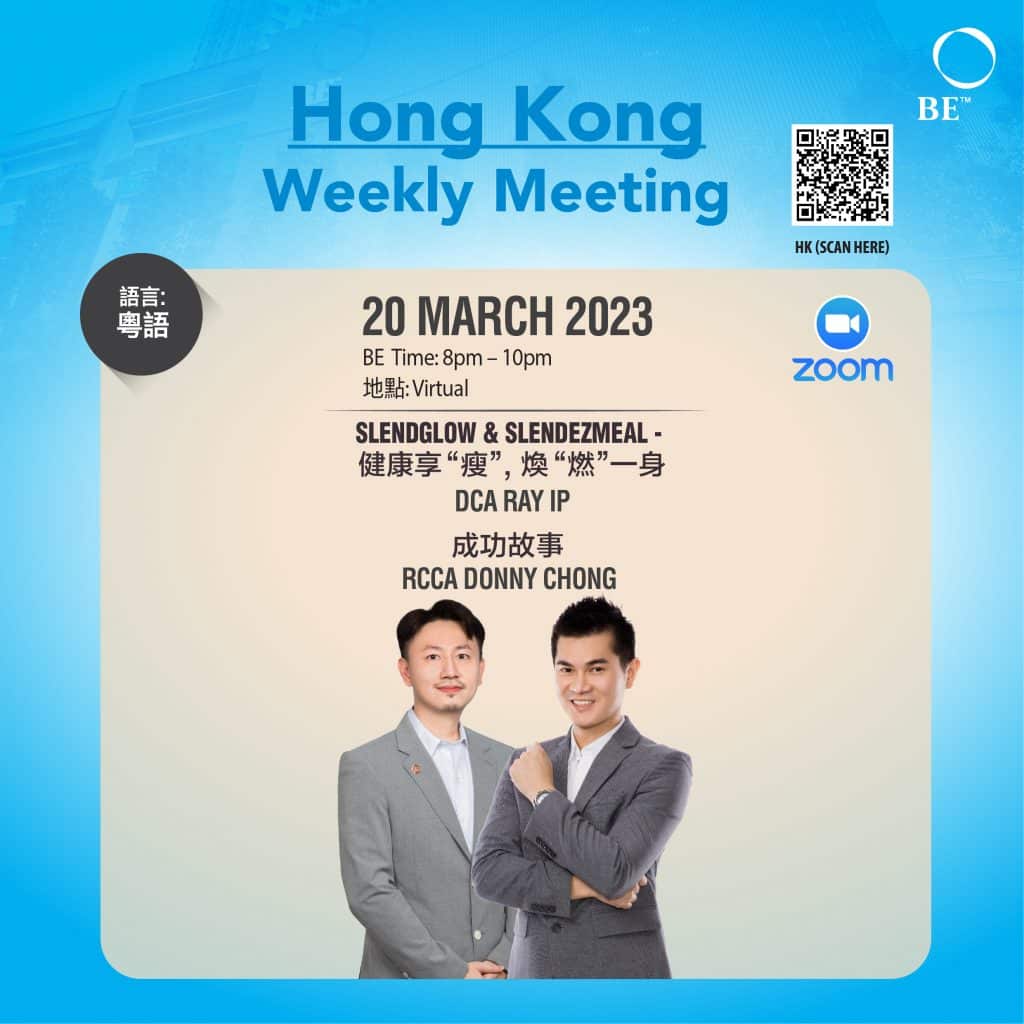 DCA RAY YIP (20 MARCH)
Ray Yip from Hong Kong currently lives in Singapore. He used to be a high-end fashion design manager. Ray worked for 15 years and had to work overtime frequently. After he learned about BE, he realized the importance of health and began to share BE products. Various health problems of his friends and family members have alleviated, and gradually, he started his own business and team through the Internet.
---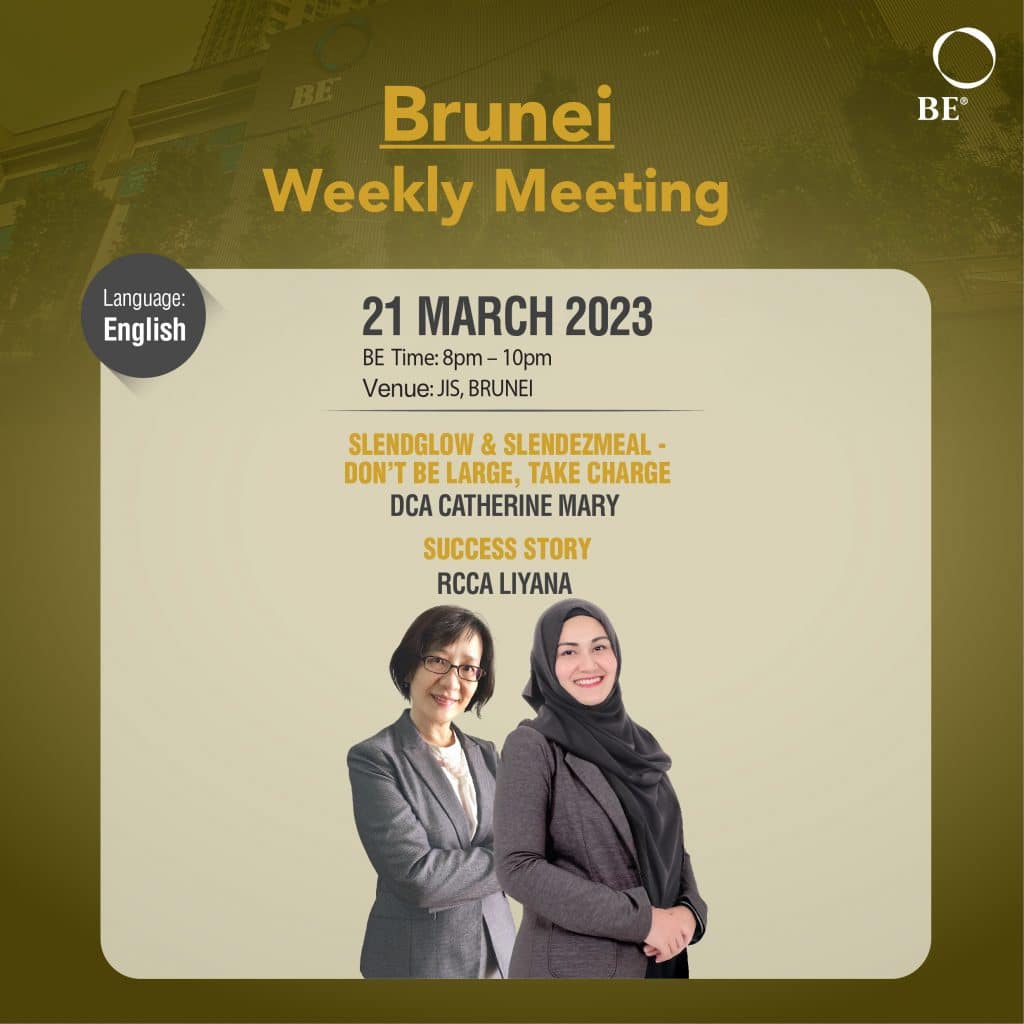 DCA CATHERINE MARY (21 MARCH)
DCA Catherine was in the pharmaceutical industry for over 23 years promoting medicines for hypertension, diabetes, psychiatric disorders, hemophilia, cancer and stroke. She was the 1st local-based Bruneian medical sales representative while Brunei used to be covered by outstation medical reps from Sabah, Sarawak, KL or Singapore. Since wearing Aulora Pants end of Apr 2018, she no longer suffers from leg cramps at night which woke her up in pain from sleep. Her palms and soles of feet are no longer icy cold when temperatures drop at night. By sharing the greatness & benefits of Aulora Pants & BE other & wonderful products, she achieved her DCA in June 2020 and was one of the Car Fund Achievers for BE Convention at KLCC on 20th August. Her goal is to guide and help her teammates realize their dreams & achieve success in BE.
RCCA LIYANA (21 MARCH)
Liyana was a very successful real estate developer and sold many valuable properties every year. However, she had to sacrifice many things, including her time, which she had very little to spend with her children. By chance, BE's high-quality products have helped her recuperate her health and also showed her the golden opportunities that BE provided. After engaging in BE, her dreams have been realized one by one, even surpassing her business of 11-years!
The most important thing for her is the freedom of time. She can run the BE business while accompanying her children in their growth process without having to leave them for more than 12 hours a day to struggle for a career. Moreover, the satisfaction of successfully helping others in trouble is beyond the reach of money. Therefore, she decided to close all real estate businesses and work full-time more diligently in BE.
---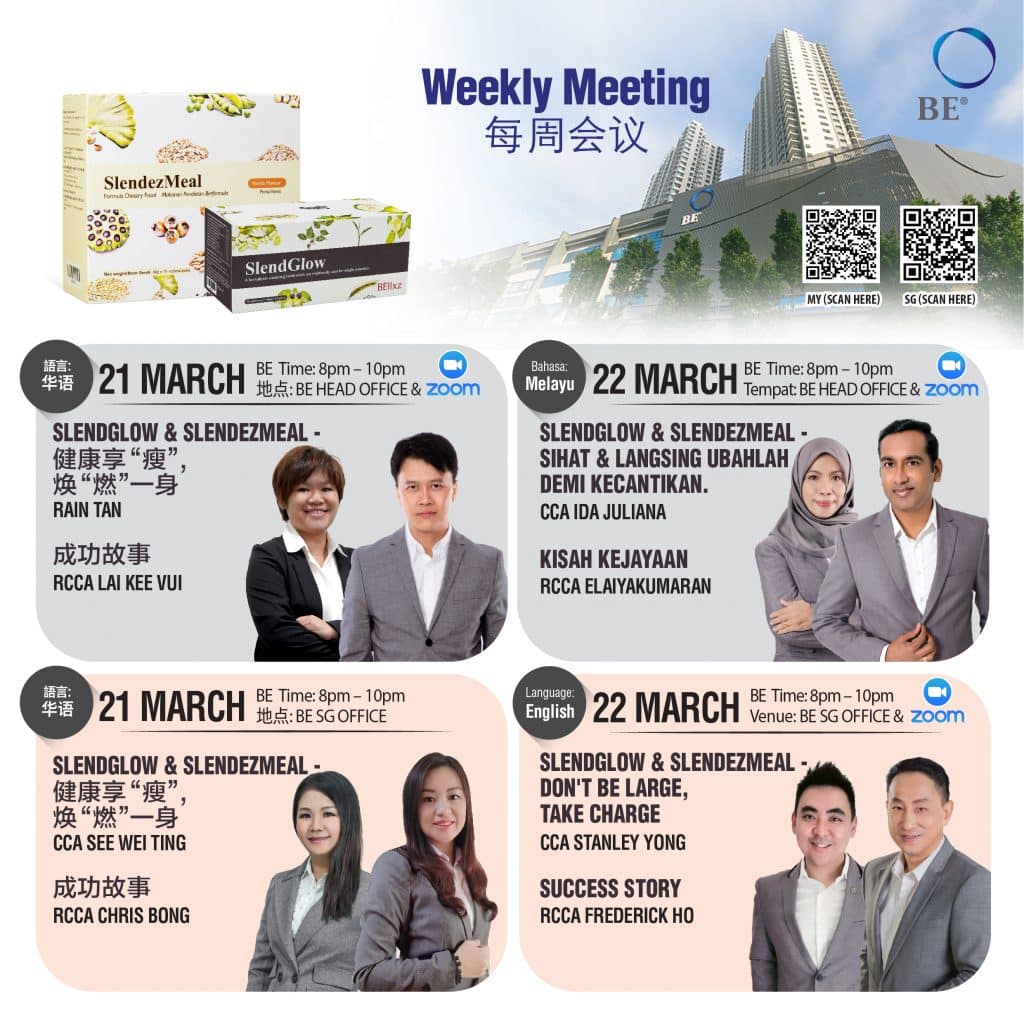 MS. RAIN TAN (21 MARCH)
Assistant Marketing Manager of BE International. 10 years of experience in marketing Health Supplement & Health Food products. 5 years of experience in MLM industry Specialize in marketing strategy planning, trade marketing, product positioning and branding.
RCCA LAI KEE VUI (21 MARCH)
After graduation, RCCA Lai Kee Vui and Lee Wan Sian achieved their dream of becoming a designer! However, they noticed the boss changed the car every year; but they received the same salary every year. The cruelty of reality shattered their dreams, so they decided to join the MLM industry. After in-depth understanding, they discovered that being an employee is also a form of trading business. Employees sell their time and expertise to their bosses, but their efforts and rewards can never be equal! The MLM industry is not just a simple buying and selling activity, but a business that can help people improve their health and life and there are many unexpected meanings lie within it!
He and his wife firmly believe that and follow the footsteps of BE International and their upline, and finally started their extraordinary life!"
---
RCCA CHRIS BONG (21 MARCH)
Chris Bong grew up in a poor environment, so she knows that it takes hard work to live a better life. She had to work harder and more diligently than others because she understood that her ability was not as good compared to other people. She ran businesses from homestays to sales and then opened a pet beauty salon on her own. Every time she did everything by herself, she couldn't find the balance of life, and she also lost her health and time with her family. At this time, the magic of Aulora Pants made her see hope and direction for her future. Soon after, her enthusiasm and joy of joining BE reached her husband. He decided to work hard with her in this big business, and they dedicated 200% effort to BE. For her, succeeding alone is a lonely journey, so she wants a group of people to rise with her. 18 months of hard work resulted in her magnificent transformation and promotion to RCCA!"
---
CCA IDA JULIANA (22 MARCH)
Ida Juliana is a graduate of the Chartered Institute of Marketing from the UK and MBA from the University of Derby, UK. She is also known as the IRON LADY because she is a single mother to three children. She worked in a corporate company for over 18 years before having to quit her job due to Cervical Spondylosis. Later, she opened an online Muslim clothing boutique business. The business, which ran for almost 7 years, did not succeed in achieving her dreams. In fact, her available savings were depleting.
Ida was introduced to Aulora Socks and Aulora Pants and managed to lose 2.4kg in 1 week. It opened her up to learn more about the BE139 marketing system. Now, she is gradually realizing her dream.
RCCA ELAIYAKUMARAN (22 MARCH)
Elaiyakumaran graduated from UM, and was an IT executive. Before joining direct sales, he didn't have any business or direct selling experience, no capital, no transport, and not many friends outside of his 5-years working experience.
However, he never gave up on his dream, which is to change his life, family's status and financial freedom, so he started to engage in direct selling and established a network with passion. At the age of 33, he successfully became a millionaire.
---
CCA STANLEY YONG (22 MARCH)
Stanley Yong is a successful entrepreneur who ran tuition centers and kindergartens in Johor, Malaysia. He loves basketball and is often injured due to this intense sport. Later, his upline introduced Aulora Pants to him, which improved his leg's problems. Initially, he hated direct selling. Soon, he benefited from the pants and became optimistic about BE139 marketing plan, so he began to share it to those around him. His efforts successfully qualified him for the Car Fund and House fund, and he became one of the top ten ECAs in the first quarter of 2020. After that, he decided to pass his business over to someone else and work full-time in BE, because he can obtain time and financial freedom only in BE. He also qualified to become an SRCA during MCO 3.0, and influenced his wife to join him in the BE business together!
RCCA FREDERICK HO (22 MARCH)
Frederick Ho is a Masters Degree holder and was a part-time lecturer when he was in his late thirties. He was the General Manager of Mercedes Benz in Melaka and had been working in the Corporate world for over 40 years. The industries he had worked with were sales, banking, automotive, education, property investment and management. In 2019, he left his 9 to 5 full-time job with a 5-digit monthly income to pursue the BE career together with his wife Chris Bong.
By Feb 2020, they achieved their RCCA status in BE. They were also the Annual Top 3 Ambassador Producers for 2019/2020 as well as the Annual Top 4 CCA Assemble for 2020/2021 campaigns. Together with his wife, they are committed to share better health and career success with people through BE.
---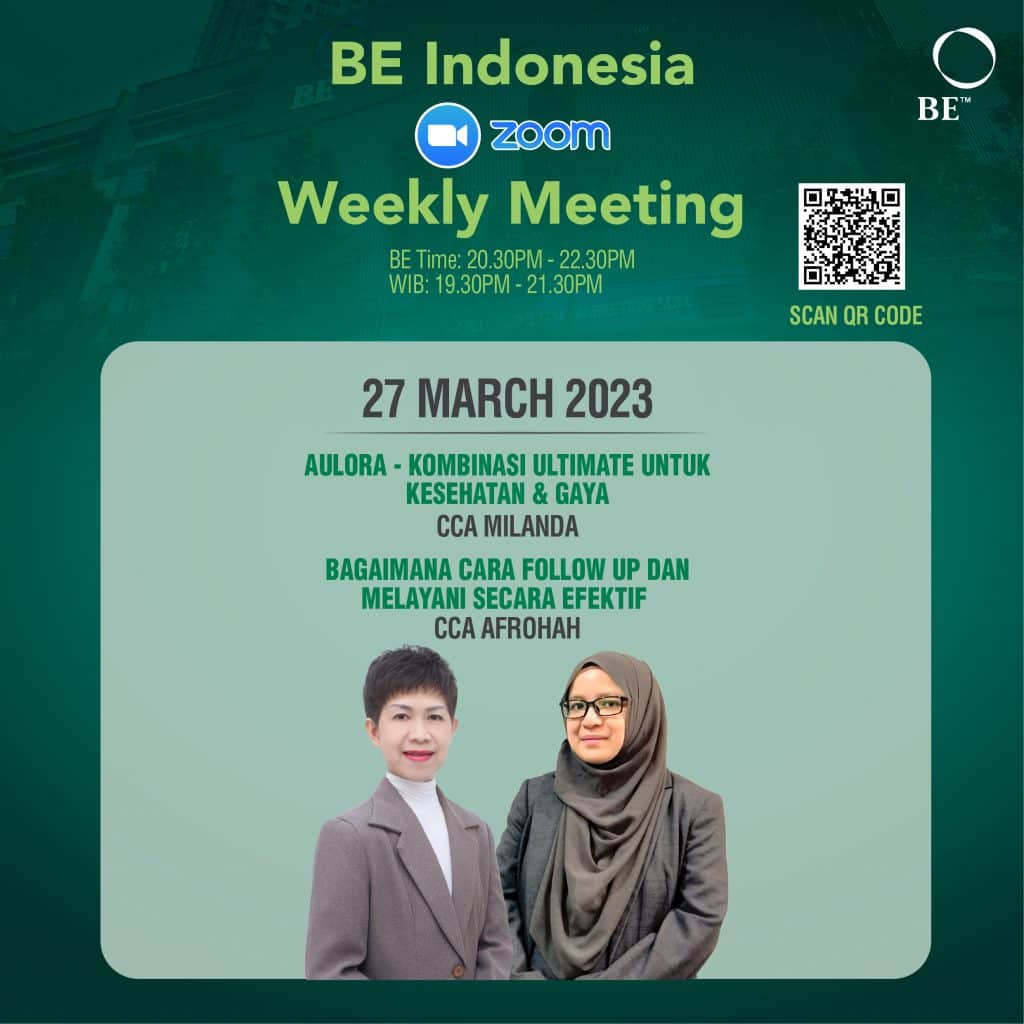 CCA MILANDA (27 MARCH)
Milanda was a famous Yoga Instructor for more than 15 years. She found out about BE products from her Upline, Sumiati Djapardi which was used for her mother who had a swollen leg, severe pain from sciatica and pinched nerve in her L4 and L5.
In 9 days, her mother experienced the healing process and she herself also experienced the products which brought her amazing quality of sleep, made her feel energized and awesome. By sharing her testimony, she believes that it is one of the ways to help more people become healthier and also gain wealth during the pandemic period where most people struggle with their income.
CCA AFROHAH (27 MARCH)
Afrohah graduated with a Bachelor's Degree (Hons) in Information Systems Management from IIUM and a Master's in Information Technology from the University of Queensland, Australia. She served as an Information Technology Officer with the Malaysian government for 12 years before retiring and becoming a full-time housewife after migrating to Australia.
She started her career at BE International in the pandemic season of July 2020 and achieved an unexpected milestone in a short time. After 11 months at BE, she was granted the rank of CCA and achieved all 9 benefits of BE. Now, she continues to take steps to work with more people under her network to reach the pinnacle of success not only in BE but in the world and in the hereafter.
---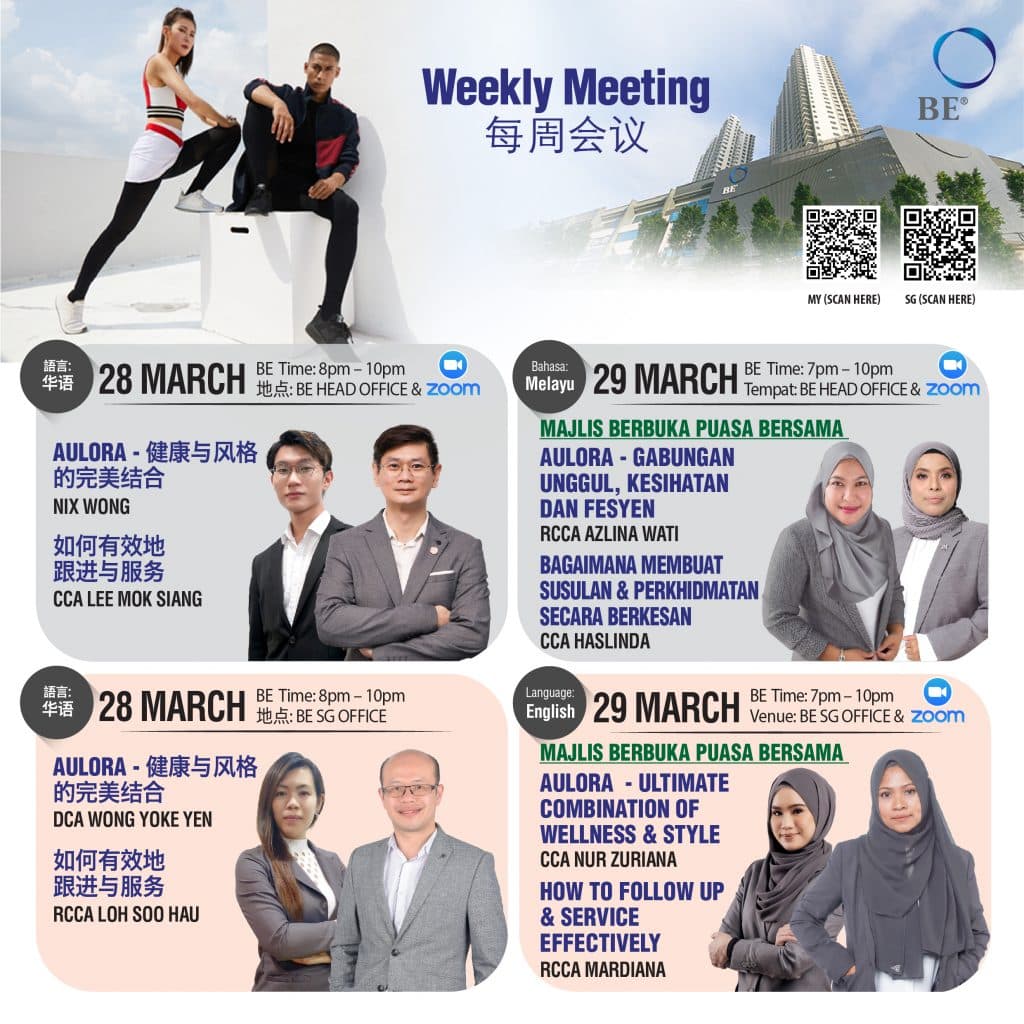 MR. NIX WONG (28 MARCH)
Nix Wong, a Bachelor's Degree graduate in Marketing and Event Management from INTI International University, is an energetic and passionate youth that loves sports. He is a fitness enthusiast that has spent more time working out in the gym, participating in sports such as football, volleyball, and swimming, than anything else. He has also participated and won multiple basketball tournaments locally and internationally as well.
Even at a young age of 23, he is already cautious about his health because he understands that a long and healthy lifestyle begins from an early age, and has begun studying the importance of health, hence he will be the perfect person to share his knowledge and studies on the importance of a healthy lifestyle and the methods to maintain it at an optimum level. Prior to joining BE International, Nix was also a founder of a homegrown fashion brand known as Sold High Clothing Co. His passion for style and fashion will definitely elevate your fashion sense to better dress yourself with this beautiful range of AULORA Series."
---
RCCA LOH SOO HAU (28 MARCH)
Loh Soo Hau worked as an engineer for 2 years and later as a sales manager, with 16 years of sales experience in the electronics industry. Although his monthly income reached 5 figures, he still felt that he was working for others. He wanted to stand on his own. However, venture capital and competition in the industry deterred him.
Later, he met BE, a platform for realizing his dreams. He decided to resign his job after 1 year of part-time in the BE career, and stepped out of his comfort zone to work full-time in BE!! Although he did not have much direct selling experience, he has mastered the essence of 139 and followed the BE system education. He completed the BE9 benefits within 14 months and became RCCA!
---
RCCA AZLINA WATI (29 MARCH)
RCCA Azlina Wati is a stay-at-home mother with two children. She holds a law degree and was a lawyer for three years before she decided to become a fulltime housewife to take care of her family. She was involved in a road accident and had suffered various injuries. Her health and life changed for the better when she began to wear Aulora Pants in 2019.
Amazed by the BE business opportunity, she began to actively share about Aulora Pants with the people around her. She rose to CCA within 14 months and has nurtured many CCA and successful leaders. Her BE business and network have also expanded internationally.
CCA HASLINDA (29 MARCH)
She graduated from the Faculty of Architectural Planning and Surveying at UiTM Shah Alam with a Bachelor's Degree in Landscape Architecture and now has 15 years of experience in related fields. In December 2021, the company she worked for was affected by the pandemic and 200 employees were let go through layoffs and the VSS (Voluntary Separation Scheme). CCA HASLINDA, who was originally a senior design and structure engineer there, ultimately also left the company during that time.
She is very grateful for the opportunity to join BE. Her aunt introduced her to the BE business in October 2020 before she left the company she had worked in for almost 10 years.
After joining BE, she has achieved many amazing things one after another, including becoming an Ambassador within 12 days, successfully qualifying for the VVIP Trip in Osaka, Japan in only 83 days, achieving the rank of DCA with a 5-figure income within 4 months, and frequently appearing on the Top Challenger list. It took her 11 months to reach the rank of CCA and earn all 9 Benefits from BE International. Her latest achievement so far is placing 1st in the Top CCA Assemble in Q2 and 8th in The Challenger in Q4!
---
CCA NUR ZURIANA (29 MARCH)
CCA Riana Rahman was a full time senior registered nurse of 14 years in a government hospital in Singapore. She has a bachelors in Health Sciences from Curtin Technology University and an Advanced Diploma in Medical Surgical Nursing from Nanyang Polytechnic.
She has vast experience working in a high dependency unit. Spirulina has helped her tremendously in providing essential vitamins and minerals for her and her family. Especially during her pregnancy.
She became an ambassador during her birthday which took place in SV6. In SV7, she DOUBLE RANKED to Emerald Council Ambassador and even scored Top 10 Sponsors. In SV8, she was crowned DIAMOND COUNCIL AMBASSADOR and in SV11 she became a CCA. In less than a year, she attained all 9 benefits that BE INTERNATIONAL offered.
RCCA MARDIANA (29 MARCH)
Mother of 4 active boys. Founder of ByMommaDee, est in 2015. Specialised in kids friendly products, believes in natural healing for herself and family. Always on the lookout to find gentle ways to care for her family. She saw the miracle of AULORA PANTS, and being a business owner herself, she saw the business opportunity after producing her first Ambassador. With perseverance and commitment, she unlocked all the 9 benefits including car and house fund bonus in 14 months and her first RCCA was born under her Team too.
Her name was listed in BE Scoreboard consistently as Top Ambassador Producer in Q4 of 2021, Top 10 CCA Assemble in Q1 of 2022 and Top Sponsor in Q3 of 2022. And within 2 years in BE International, she successfully achieved the rank of RCCA! With the correct attitude and mindset, along with focus and consistency, she BE-lieves everyone can do this business.
---