MALAYSIA HYBRID ZOOM LINK (TUES, WED)
https://zoom.us/j/91774573678?pwd=cTBkNVJUbDE3eFlneDhrOTBxUjAzUT09
HONG KONG CANTONESE ZOOM LINK (MON)
https://zoom.us/j/93913634592?pwd=U2NoTG1mOC9EU01tMllxVU9UVjlUdz09
INDONESIA ZOOM LINK (MON)
https://zoom.us/j/92180623010?pwd=Zm14V29oSzFBUWg4WllJR0xWSllLZz09
---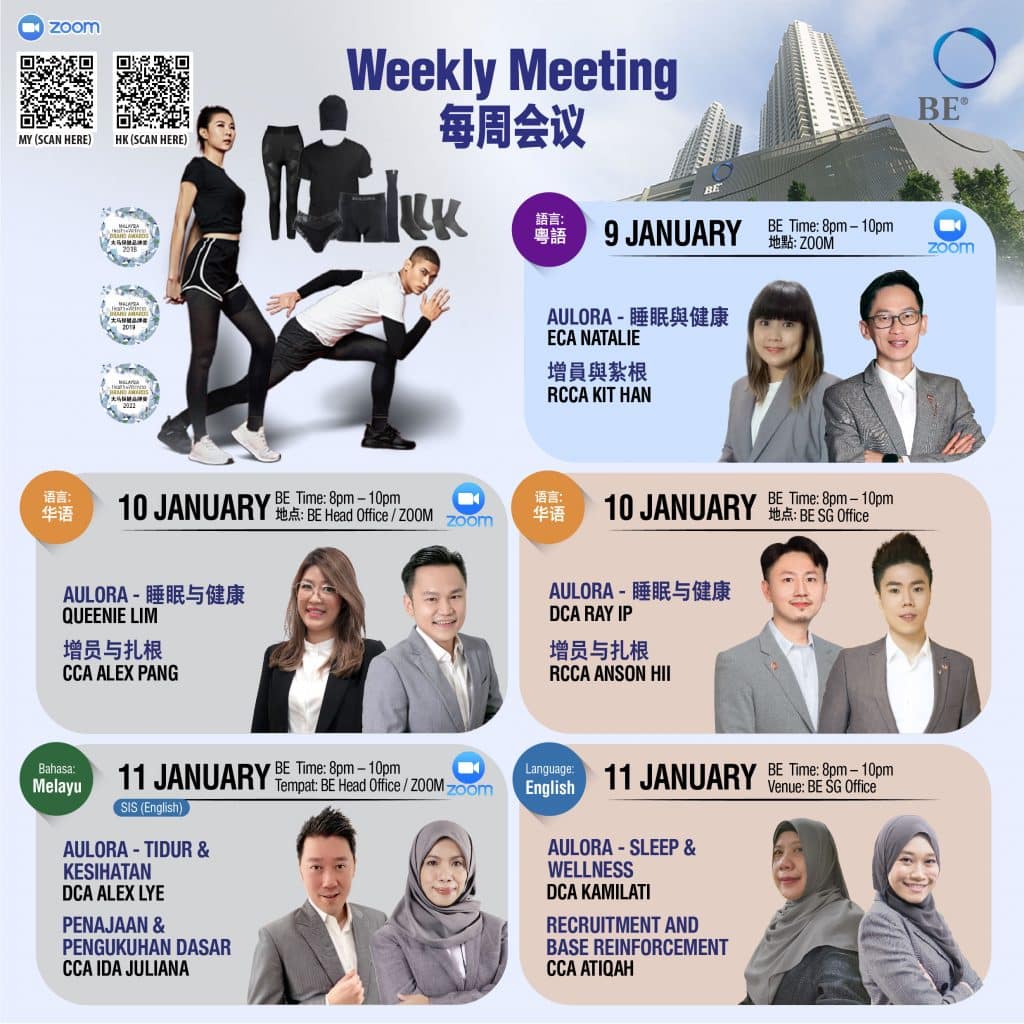 ECA NATALIE (9 JANUARY)
She has a great love of travelling and has visited more than 40 countries. Has been engaged in traditional paper media sales since after graduation. The first business she started was a studio based business, but after 2 years she realized that she had less and less time for herself.
Later, she set up a business around internet marketing, and was also simultaneously an amateur sports coach. Truly a woman with many roles over the course of her career.
---
RCCA KIT HAN (9 JANUARY)
A software engineer with 10 years of experience, he quit his job along with his wife, both highly paid employees to begin their journey with BE International. Initially, he was sceptical about AULORA Pants but after wearing it himself, it improved his health and helped with his body numbness.
Since then, He started his BE journey!
Currently, he has expanded his network to MY, SG, HK, Taiwan and more with a worldwide membership of more than 28,000 members. As of today, they have cultivated a total of 5 RCCAs with 2 more waiting in the pipeline.
---
MS. QUEENIE LIM (10 JANUARY)
Queenie is currently an assistant marketing manager of BE International, in charge of handling the AULORA portfolio.
Her 11 years of marketing experiences ranging from movies, entertainment, to retail mall industries have provided her with the necessary knowledge and skills to promote various brands and products.
Previously the Trade Marketing Manager of Astro Malaysia, her marketing skills and ideas have
helped the company increase its subscribers by 6.5 million over a period of 6 years. She also
worked closely with over 20 TVB artists from Hong Kong to promote their dramas locally.
As an outgoing person and a world explorer that loves to wear her AULORA PANTS, she strictly lives by the motto that "Life is short, so live healthily!"
Her experience in both sales and marketing, as well as her worldview of people from all walks of life, will definitely give you a new insight and perspective towards AULORA.
---
CCA ALEX PANG (10 JANUARY)
---
DCA RAY IP (10 JANUARY)
---
RCCA ANSON HII (10 JANUARY)
---
DCA ALEX LYE (11 JANUARY)
Alex Lye was a former Country Manager for an international advertising agency based in Shanghai, China. He returned to Malaysia to start up his own business in Apparel Manufacturing and import-export. He owns 2 outlets of a famous Dessert Franchise here in Malaysia.
Although owning multiple businesses, he has time to build his BE business because BE amazed him with its products, system and opportunities. He is determined to help more people from the health and wealth perspective.
And during the pandemic, his team grew over 500% in the last 5 months and has helped over 50 people achieve success in his network around the region.
---
CCA IDA JULIANA (11 JANUARY)
Ida Juliana is a graduate of the Chartered Institute of Marketing from the UK and MBA from the University of Derby, UK. She is also known as the IRON LADY because she is a single mother to three children. She worked in a corporate company for over 18 years before having to quit her job due to Cervical Spondylosis. Later, she opened an online Muslim clothing boutique business. The business, which ran for almost 7 years, did not succeed in achieving her dreams. In fact, her available savings were depleting.
Ida was introduced to Aulora Socks and Aulora Pants and managed to lose 2.4kg in 1 week. It opened her up to learn more about the BE139 marketing system. Now, she is gradually realizing her dream.
---
DCA KAMILATI (11 JANUARY)
---
CCA ATIQAH (11 JANUARY)
She holds a master's degree in education, a part-time lecturer at a local university, a Malay language training book writer, a health therapist and also a mother of 2 children.
When he's offered a full-time job, he freaks out! He told his upline, he wanted to build his business in BE seriously and also wanted his income to surpass his full time job.
After understanding BE139 and double bonus, he immediately rescheduled all his daily activities and focused on doing BE seriously.
After 3 months of focus, his income actually exceeded his full-time teaching salary and in just 8 months, he earned all 9 bonuses. His motto, to succeed at first is very uncomfortable, with hard work and dedication, you will reap the fruits of your labor!
---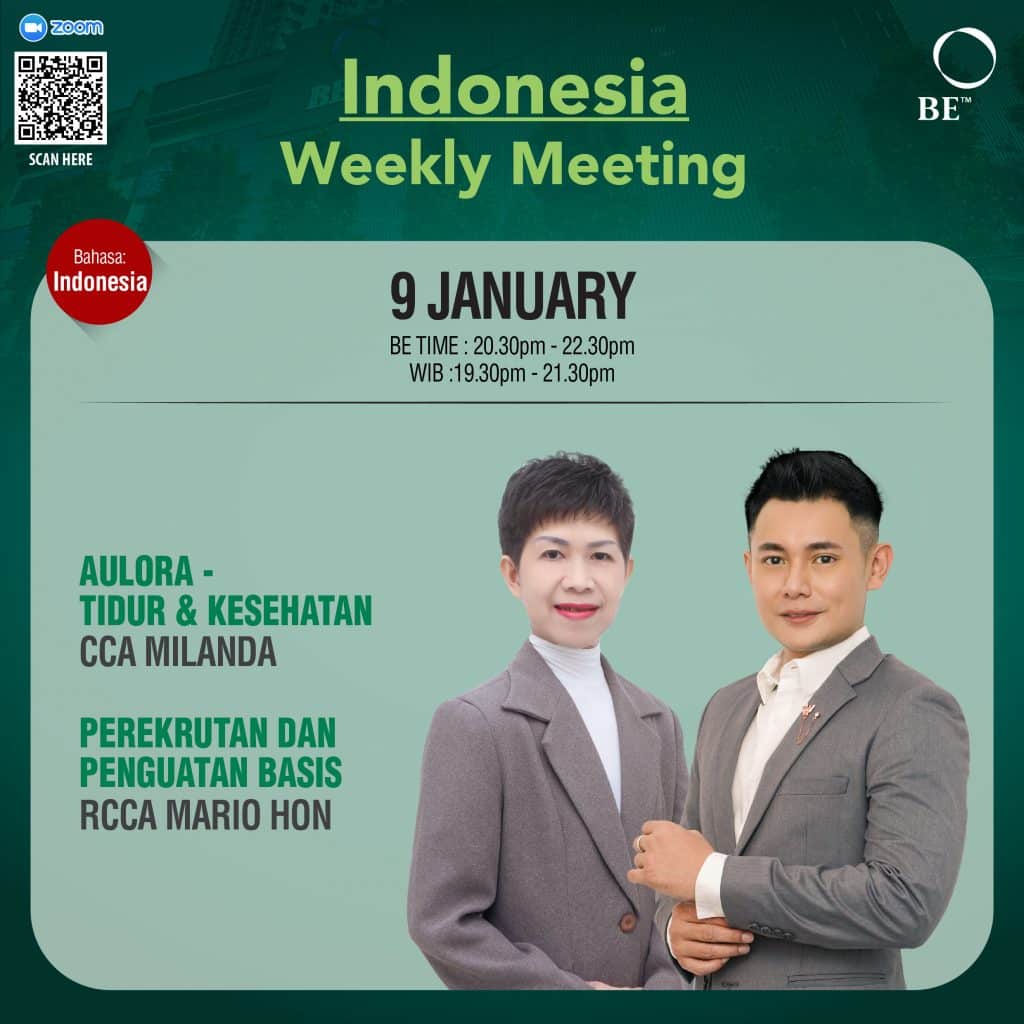 CCA MILANDA (9 JANUARY)
---
RCCA MICHELLE CHUA (9 JANUARY)
---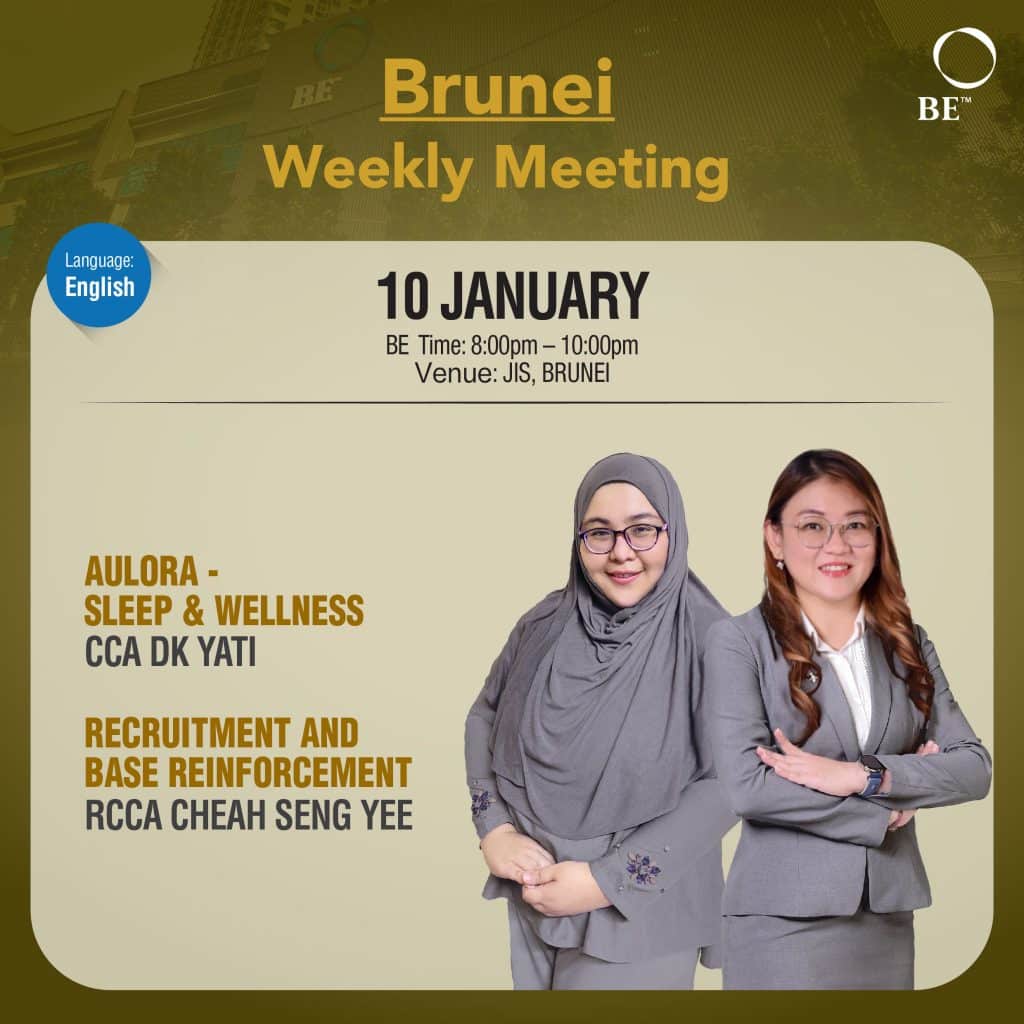 CCA DK YATI (10 JANUARY)
DK Siti Nasrun Hibayati is a mother of 2 children. Before getting married, she worked for 10 years as a car saleswoman and managed to become a manager in the car sales industry. After getting married, she quit her job and started an online business and eventually opened a boutique selling fabrics and clothes for girls. She first got to know of BE in 2020 after looking for a business opportunity because her initial business was in trouble during Covid-19.
In the process of it, her income at BE has opened her mind to see her future with BE. With hard work, she managed to obtain the Car Fund in the 5th month, secure the House Fund and became an SRCA in the 8th month! Now, she has a network in Brunei, Malaysia & Indonesia. She believes that will only feel true victory if we succeed in helping more people.
---
RCCA CHEAH SENG YEE (10 JANUARY)
Cheah Seng Yee is a top student who graduated with a Master's Degree in construction engineering management in the UK!
She is a quantity surveyor, and she had been working for a development company in Miri, Sarawak, in Malaysia for 7 years. She has been responsible for many large-scale construction projects, but she can't feel the joy and satisfaction of success. In exchange, there was only more pressure and lesser time to spend with her family.
Later, with close guidance by her upline, she became an ECA in just three months, and her income exceeded five digits. With no connections and experience, she was successfully promoted to RCCA within two years due to the perfect systematic education of BE, and her organization is spread all over the world!
---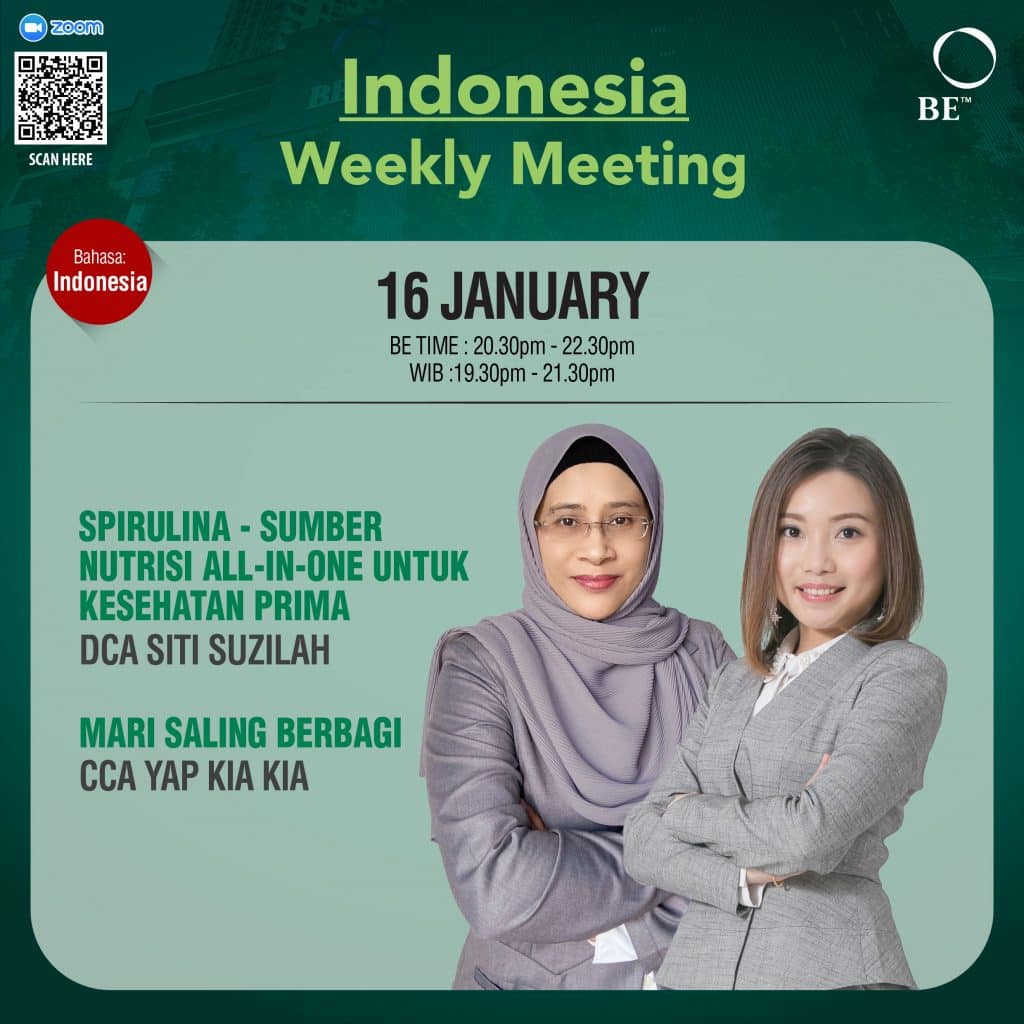 DCA SITI SUZILAH (16 JANUARY)
DCA Siti Suzilah Faharuddin graduated in Regional & Town Planning from the University of Queensland, Australia and her MBA was from Universiti Teknologi MARA UiTM, Shah Alam.
She has been working in the government and private sectors before she resigned in 2015 and became a homemaker. She is married and is a mother of three lovely daughters.
---
CCA YAP KIA KIA (16 JANUARY)
Yap Kia Kia, who graduated from the University of Malaya in Telecommunications Engineering, was a telecommunications engineer. She was a quiet person with no contacts and no sales experience. BE's Aulora Pants helped her alleviate rheumatism and lower back pain, and her family also benefited from the Aulora Series. They have become loyal fans since then. Before that, she rejected direct selling. After seeing the power of duplication in direct selling, she changed her career to start working full-time in BE.
In the process of striving in the BE business, she not only helped many people improve their health but also built her network in many countries. Now, her income and achievements in BE have far exceeded her income and achievements in the engineering industry.
---